The Whitman Hanson  Pizza Bowl will be held on Sunday  January 28th   at Whitman Hanson Regional High School 11am-2pm.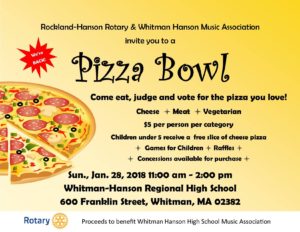 The Pizza bowl is being sponsored by the Rockland Hanson Rotary club in partnership with Whitman Hanson Music Association.
The pizza bowl is a great way to sample some pizza and make sure you chose your favorites to order in the future!
Admission $5.00 per category Kids under 6 will receive a free slice of cheese pizza.
Some of the previous winners include
Best Overall: Mikes House of Pizza, Hanson MA
Runner Up: Venus Café, Whitman MA
Cheesiest Cheese: Mikes House of Pizza, Hanson MA
Vegetarian's Voice: Trio Café, Whitman MA
Manliest Meatiest: Rocco's, Hanover MA
Kid's Choice: Papa Gino's, Whitman MA
Whitman Hanson Regional High School
600 Franklin St. Whitman, MA 02382
Comments
comments