The   Benjamin's  Fund 1th Annual Butt Burning Chili Bowl  will be held Sunday, January 28th , 2018 at the Lafayette Club, 18 Lakeview Ave, Taunton, MA.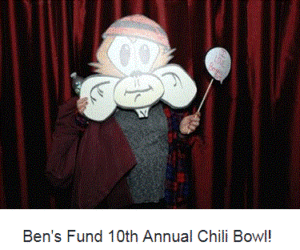 The event will be from 12-4pm with chili tastings running from 12-3 pm. Tickets are $15 for adults, $7 for kids 10 & under (under 2, free) Tickets at the door are $20 each.
Lots of entertainment going on through the event. 3 categories of chili competitors; Home Chefs, Restaurants & Community. We will have lots of sampling tables from area businesses. During the event, you have a chance to win a gift card from one of our restaurant chili competitors during their game. There will also be a huge, amazing and fun prize/raffle tables.
The schedule of events will be packed the entire time, so if you want to participate or watch, you will be having a great time! This event continues to be our most popular event & a great way to get out and have some fun on a winter day, while contributing to Ben's Fund. Contact bentjmills1219@gmail.com with any questions about competing, getting tickets, or entering your business into our competition! Looking forward to another successful fundraiser for Ben's Fund!!! Let's start the year off right!!