The 9th Annual Chili Bowl  chili cook-off will be held on Saturday, January 27, 2018
1-4pm at   Hough's Neck Congregational Church in Quincy MA.   Who will win the title of "Quincy's Champion Chili"?
There will be categories for both home cooks and restaurants, the event will offer attendees the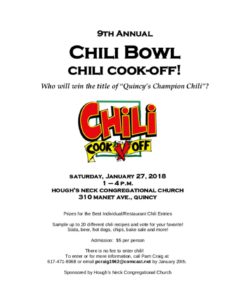 chance to sample and savor up to 20 different varieties of chili, with trophies and medals awarded to the champion chili winners as voted on by attendees. Past participating restaurants have included The Common Market, The Four's, Louis Restaurant, the Wheelhouse Diner and Wild Willy's Burgers. Coop's Bar and Grille got a last year for its victory chili
Admission to the cook-off is $5 and includes all the chili attendees can eat. Hot dogs, beer, soda and snacks will also be available for an additional charge.
Sample up to 20 different chili recipes and vote for your favorite!
Soda, beer, hot dogs, chips, bake sale and more!
Admission: $5 per person
Sponsored by Hough's Neck Congregational Church 310 Manet Ave., Quincy