Regal Marketplace 13th annual wine tasting benefiting the Friends of Whitman Park will be hosted Saturday November 12th from 7-9 at Whitman town hall.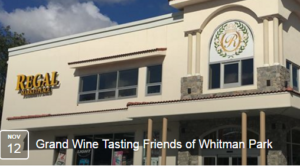 There are many, many wonderful items that have been so generously donated for the silent auction and over 100 different kinds of wine (beer too) to be sampled. Local restaurants including Trio Cafe in Whitman Olde Hitching Post Hanson, Teds, Venus & Regal will also have food to enjoy. Wine glasses will be supplied and the first 100 people through the door get a free collectors glass!
Tickets are sold in advance at Regal Marketplace and Duval's Pharmacy. $2 for $35 in advance or $20 each at the door.
Whitman Town Hall 54 South Ave