The Whitman Hanson  Pizza Bowl will be held on Sunday April 9th 1-330pm . at Whitman Hanson Regional High School.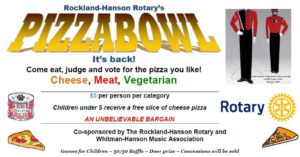 The Pizza bowl is being sponsored by the Rockland Hanson Rotary club in partnership with Whitman Hanson Music Association.  Help the band replace their 30 yr old uniforms.
The pizza bowl is a great way to sample some pizza and make sure you chose your favorites to order in the future!
Admission $5.00 per category Kids under 6 will receive a free slice of cheese pizza.
Some of the previous winners include
Best Overall: Mikes House of Pizza, Hanson MA
Runner Up: Venus Café, Whitman MA
Cheesiest Cheese: Mikes House of Pizza, Hanson MA
Vegetarian's Voice: Trio Café, Whitman MA
Manliest Meatiest: Rocco's, Hanover MA
Kid's Choice: Papa Gino's, Whitman MA
Whitman Hanson Regional High School
600 Franklin St. Whitman, MA 02382