If you don't want to cook a full Thanksgiving Dinner, here is where you can a full meal or maybe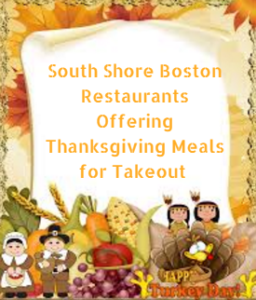 just the sides.  Many supermarkets like Stop & Shop, Shaws, Roche Brothers offer diners but here are local restaurants that either offer full dinners or at the very least the sides.
If you decide to dine out on Thanksgiving there are plenty of restauarants open for a turkey diner South of Boston.
Thanksgivng Side Dish Take Away  You Cook The Bird – We'll Handle the Rest!  Order by Monday November21st by 12 pm  Pickup with heating instructions for your Holiday Feast!  Wednesday, November 23rd 12 -4 pm
Sat., Nov. 19 & Sun., Nov. 20  9 am – 6 pm
Mon., Nov. 21 & Tues., Nov 22  9 am – 8 pm
Wed., Nov. 23   9 am – 5 pm
Kinfolks Southern Thanksgiving Catering  Menu (All orders must be placed and paid in full by November 18th) Orders must be picked up on November 23rd between 3:00p.m. – 9:00p.m.Please call: 850-694-1074
Let's us cook Thankgiving dinner for you!! Fully prepared just heat n serve. Orders must be place  Sunday 11/20 and picked up by Wedneday 11/23 8pm
When ordering a turkey, we recommend an estimate serving size to be one pound per person for a sit down meal, assuming there are no leftovers. Though depending on appetites, you may want to adjust the amount to your needs Order early!!
Order thanksgiving Takeout the whole turkey with all the fixings  pick up Wednesday or Thursday with al the fixings
Want to take the stress out of cooking on Thanksgiving? LeBaron Hills can help you with that!! Order by November 20th 508-923-5732  Also -Thanksgiving buffet available Call for reservations!!
COMPLETE *HEAT & SERVE* TURKEY DINNER
Pick Up Tuesday (11/22) and Wednesday (11/23) Before Thanksgiving
COMPLETE HOT TURKEY DINNER
Pick Up On Thanksgiving Day between 11 am – 12 noon
Order by 11/22 and pick up for 11/23 all you need to do is heat n serve!
Comments
comments