The   Benjamin's  Fund 8th Annual Butt Burning Chili Bowl  will be held Sunday, January 31st, 2016 at the Lafayette Club, 18 Lakeview Ave, Taunton, MA  from 12-5pm.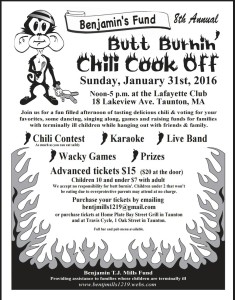 The chili tastings will be  running from 12-3:30pm.
Tickets are $15 for adults, $7 for kids 10 & under (under 2, free) Tickets at the door are $20 each.
Lots of entertainment going on through the event. 3 categories of chili competitors; Home Chefs, Restaurants & Community. We will have lots of sampling tables from area businesses. During the event, you have a chance to win a gift card from one of our restaurant chili competitors during their game.
There will also be a huge, amazing and fun prize/raffle tables. The schedule of events will be packed the entire time, so if you want to participate or watch, you will be having a great time! This event continues to be our most popular event & a great way to get out and have some fun on a winter day, while contributing to
Ben's Fund. Contact bentjmills1219@gmail.com with any questions about competing, getting tickets, or entering your business into our competition! Looking forward to another successful fundraiser for Ben's Fund!!! Let's start the year off right!!
Here are previous year winters 
Home Chefs; 1st place; Jamyn McCarthy, 2nd place; Roger Gagnon, 3rd place; Scott Caddy.
Restaurant Category; 1st place; Owen O'Leary's, 2nd place; Lafayette Club, 3rd place; Home Plate Bay St Grill!
Newly added Community Category: 1st place: Taunton Fire Department, 2nd place: Taunton Police Department, 3rd place: A Class Glass.
Competitors Choice Award went to Kris Hogan & Hard Rock
The Benjamin T.J. Mills Fund
Benjamin's Fund was established in February 2008, in memory of our son, Benjamin, who passed away after being with us for only 48 short days. While Benjamin was here many lives were touched by his story. Many lives were united with the common bond of wanting him to survive. Our lives consisted of caring for Benjamin and concentrating only on him. Fortunately, through the help of our family, friends and even strangers, we were able to focus more on Benjamin for the little time we had with him. We didn't have to worry about our loss of income or the stream of bills coming in. Thankfully, there was one less worry with all the help we received and for that we are eternally grateful.
Benjamin's Fund fulfills our desire to give to others the feeling of security that we had. Through our fundraising efforts we hope to provide assistance to families who are financially in need due to the burden of caring for a terminally ill child. We want a child, whose life will never be long enough, to be surrounded by their parents constantly. Even though financial assistance is only a part of the many worries a sick child can bring, it is our hope that we can help in some small way. Every family we help means that one more child will not be without their parents love and constant care; throughout their journey.
Comments
comments