Simply Smith's  is a new deli and restaurant  is getting ready to open in the former Green Light juice shop space on Pleasant Street in the center of Cohasset according to the wicked local newspaper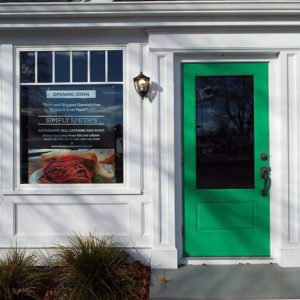 The  owners Greg Smith and Jean Sullivan are planning to make the new place  an upscale but affordable old-fashioned deli with sitdown service, and  menu choices will include – soups  salads,  giant sandwiches, imported Italian cold-cuts, Kobe beef burgers, cold-smoked cheeses, and deli cuts cured in-house – at a great price: $8 for a sandwich, and under $20 for everything else. They have posted their full menu on their facebook page.
Smith has had six restaurants in the Greater Boston Area, most recently in Mansfield, and before that in Canton. Simply Smith's Catering has been in business since 1992.
Since 1992, Simply Smith's Catering has provided excellence in catering and event planning. With our innovative designs and wide arrange of available styles, we can help you plan the event of your dreams and offer you a memorable experience.

We specialize in creative, custom catering menus and offer wait and bar service as an added option. Whatever your event, corporate or private, we can make it the most special – small or large, casual or elegant – whatever your dreams, we will make your occasion unforgettable.

We provide the highest level of service, freshly made cuisine, and delicious cakes and desserts. You tell us what you want and we'll make it happen for you and your guests. No menu is too small or too big. Whatever your tastes, our chef and staff will design the menu you're looking for.
Simply Smiths at 1 Pleasant opens in January and will accept all major credit cards.