Widowmaker Brewing  in Braintree open offically opened its taproom on Woods Rd during September 2017 .
Widowmaker features a 70-seat taproom, and its beer selection includes a pale ale, two kinds of stouts, a blonde ale, an IPA, and a double IPA.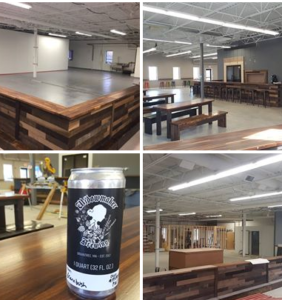 Widowmaker will be bringing in   food trucks to provide sustenance for visitors during open hours.
Currently on Tap -subject to change
Greenbush Pale Ale, 6.8% ABV Greenbush pours a golden haze and emits an instant passion fruit aroma. What started as a single-hop Mosaic pale ale has evolved over time, but still remains over 80% Mosaic. A dry finish to one of our of favorite offerings.
Donut Shop Coffee Stout, 6.5% ABV The flavor of Donut Shop is multi-layered. It pours a thick, caramel head with an aroma of dark coffee and hints of chocolate and roast. At initial taste you get sweetness up front and a nice silky mouthfeel, rounding out to a subtle coffee finish. Cold Brewed by Widowmaker Brewing, using roasted beans from Red Eye Coffee Roasters: 3 Otis Street in Hingham MA
50-Year Storm, American DIPA, 7.8% ABV Vaya con Dios! 50-Year Storm pours a hazy gold with a thick white head. A well-balanced beer with floral notes upfront and a grapefruit finish. Australian hops and lots of them!
Sens Lives, American Blonde, 4.3% ABV Pours a light golden haze with big aromas of citrus and grapefruit. Very little bitterness makes this beer extremely drinkable, a perfect summer beer.
Pure Hoppy: Simcoe, American IPA, 7.2% ABV Our single hop IPA series, constantly evolving always hoppy! Simcoe is one of our favorite dual purpose hops and we could not be happier with how it plays in the latest version of Pure Hoppy!
com-RAD Russian Imperial Stout, 10.1% ABV We decided to have some fun with Donut Shop and see if we could bring the smooth creaminess of our in house favorite to a big textured Russian Imperial. Brewed with Belgium Candy syrups as well as following Donut Shop's coffee additions, we could not be more pleased with the results! Cold Brewed by Widowmaker Brewing, using roasted beans from Red Eye Coffee Roasters: 3 Otis Street in Hingham MA
Comments
comments