Where to Order Thanksgiving Holiday Pies South Shore Boston 2016
If you are looking for a full turkey dinner there is a number of restaurants offering takeout/catering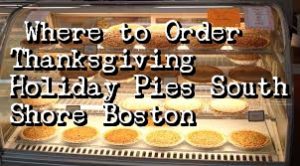 Pie Day is Tuesday November 21st  10am-1pm
Thanksgiving is on us. We will have our delicious pies again this year. They can be purchased frozen, or baked for you. The pie ordering deadline is Friday, November 17th. Pickup deadline is 1:00pm Wednesday the 22nd.
—–
Flavors are:
Apple, Blueberry, Pecan, Pumpkin, Fruit of the Forest, and Strawberry Rhubarb.
Order all of your desserts in advance from pies to tarts to everything sweet
Our homemade pies have graced the tables of families all over New England for over 65 years!
Let our homemade gourmet pies be the perfect ending to your holiday meals! Pre-order today for stress free entertaining!
Now taking pie  orders for Thanksgiving through Sunday, November 19th
The Thanksgiving Pie Countdown is ON. We're taking orders until Nov. 18 at 2 p.m. Call 781-934-0134. And thank you!
Place your  pie  orders today 🦃 Give is a call to place your order. 781-585-7586
Order your Thanksgiving Pies: Apple, Blueberry, Pumpkin, Coconut Cream, Chocolate Cream and Banana Cream 9″ Pies
Thanksgiving pies from Guarinos ! Call your orders in 781-769-4198
Apple, Blueberry,Custard,Ricotta, Pumpkin, Mince, LemonMeringue.
Coconut Custard , Pecan
We are also taking orders for Ward's Berry Farm
Pies, Crisps & Breads, & Pain d'Avignon,
Cheryl Anns' & Iggy's Breads & Rolls.
For baked goods ONLY you may also order
by email. Please order by Monday, 11/20. Be sure to include your:
First & last name
Phone number
Specific order (item, flavor, quantity, etc.)
Pick up day/time (Tues 11/21 or Wed 11/22, / AM or PM)
The Market at the Pinehills in Plymouth has fabulous apple pies — actually, all their pies are outstanding  All orders must be in by November 17th.
Pasticcini Italian Bakery in Weymouth has great pies that you can order for Thanksgiving, including a Caramel Apple Crumb Pie that is to die for
Order your Holiday Pies & Pastries!
Call or stop by any of our 3 locations.
•Kingston 781-936-8848
•Cedarville 508-888-9444
•Pinehills 508-927-4566
Thanksgiving will be here before you know it and we don't want you to show up to dinner empty handed! Or if you're hosting this year 🙌🏼, let us do the baking for you!
Pre-order your fall favorites by Nov. 20th!🍃🍁🦃
Comments
comments