The Inn at Bay Pointe  in Quincy  aims to be the South Shore's premier destination for the freshest local and exotic seafood, perfectly grilled steaks and chops and a creatively executed menu that showcases quality and quantity at reasonable prices.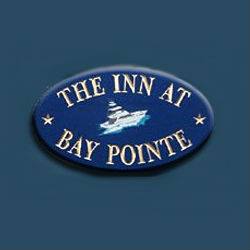 Summer 2015 marked the debut of the  brand new, state-of-the-art deck, bar & lounge on Quincy's beautiful waterfront. And this summer season is going to be even better and more fun with the addition of our massive, hand-built raw bar which will feature the freshest shellfish from local waters, all shucked to order! There's nothing better than ice cold oysters and cocktails as you relax by the water on a warm summer evening! Our custom deck also boasts a huge bar, comfortable and stylish new furniture, beautiful landscaping, a modern sound system, HD televisions and an unbeatable ocean view ideal for summer dining. Dining outside is not the same as dining outside by the water! Come join us and find out why for yourself!
Picturesque water views. Hazy sunsets. Moonlit nights. Gentle breezes. The old song had it right. There is nothing better than sitting on the dock of the bay. Nestled inside Bay Pointe Marina in Quincy, on the South Shore of Massachusetts, The Inn at Bay Pointe sits on the docks amongst the boats and alongside the bay and offers a spectacular New England backdrop for both innovative and traditional fin fare fresh from local markets. In the summer months, relax and watch the boats drift by from our large seaside deck or dine year round inside where nearly every seat in our dining room overlooks the water and adjacent marina and a sophisticated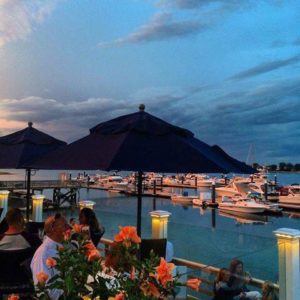 nautical décor creates an ambiance of simple elegance.
For seafood lovers, the chef offers the "Bay Pointe Fish Market Menu", a separate selection above and beyond the daily menus that boasts a variety of fresh fish that can be prepared to your specifications. The fish offered on any given day depends on seasonality and availability and will change on a daily basis depending on what our fishermen can supply, just like an actual fish market.
Here is the Swampie buzz of the The  Inn at the Bay Pointe in Quincy  
The Inn At Bay Pointe in Quincy on the waterfront!
I had mouthwatering mussels in a white wine garlic + sauce. I'm afraid I had had 2 drinks so it looks a little blurry today!!point is, I'd get them again!!! Bon appetit!!

We had a pre-birthday celebration @ Inn @ Bay Point last night. Per usual the food was AMAZING & our server Danielle was top notch !! Great night with family & loved ones. !!

Service was impeccable, stuff knowledgeable, fast, attentive, visually pleasing and "patient"
Portions were largr  generous, cost reasonable and arrangement and presentation mouth watering. Forget about the cherry on top … The part when we're overlooking the marina and feeling the breeze on a beautiful outdoor patio.

From the moment I walked in to the second I left it was an awesome experience. The food was top notch! Staff happy, helpful and efficient. I recommend this restaurant experience to anyone.

My sisters and I went here for first time yesterday on Mother's Day after seeing it advertised on talked about online  at the swampie  The atmosphere, staff, and food were all great. The portion sizes were huge too. We tried the prime rib and baked stuffed lobster everyone was satisfied. After dinner, we went outside in back to the gazebo and took some pictures. We definitely will be going back there!

Wonderful food! beautiful view! best the best thing to do is always have reservations  especially on a summer weekend  so you can just get right in and enjoy yourself but walk-ins are always welcome.

Excellent restaurant and amazing meal!!!! We got the oysters as an appetizer, the 2 lb. baked stuffed lobster, and broiled scallops…. oh my yummy

Went for my 3rd time tonight with my hubby  and sat outside on the deck. Had about a 20 minute wait for an outdoor  table so grabbed a drink at the bar and enjoyed the views. Beautiful weather with good drinks and great food. I got the seared shrimp and scallops and hubby  got the blackened chicken pasta. We both loved our meals, but I think his won. The pasta sauce was delicious. Will definitely be back again this summer.

Great spot for a casual  lunch. Everyone's food  was delicious and service was on point. Two overflowing bread baskets for our large  table of 6, calamari was fresh with a delicious aioli, steak was tender, scrod was light and flaky, swordfish melted in your mouth, and I was extremely happy with my cobb salad with added shrimp. Will def be back soon.

After not having a great experience, I wantedto try again  My husband and I went on a Monday night.  Got seated right away at a water front table. Had an excellent waitress named Maria  that was new but never would of known it, friendly personable checked in wiht us when needed . She did an outstanding job. Got the scollops and lobster risoto. Was delicious husband got the lobster mac and cheese was also good.
Open year round, Everyday
Lunch: 11:30am-4pm Daily (No Lunch on Sunday)
Dinner: 4pm-10pm Monday-Thursday
4pm-11pm Friday & Saturday
12pm-10pm Sunday
Brunch: 10am-2pm Every Sunday
We are located at the end of a small residential side street (Washington Court) off Route 3A/Washington Street, in the Quincy Point section of Quincy, Massachusetts only about a mile or so from the Fore River Bridge which separates Quincy from Weymouth. Nearby landmarks of note include the USS Salem, the Quincy Shipyard, Fore River Bridge and Bay Pointe Marina, where the restaurant in located. We are only a few short miles from Quincy Center and Route 3 as well as nearby Route 53.
Feel free to utilize your GPS to find us by entering our address:
64 Washington Court, Quincy, Massachusetts
Comments
comments