The Waterfront Bar & Grill boasts spectacular views of Plymouth's historical harbor, from its upstairs, downstairs or outdoor dining areas.  They are  open daily from 11am to 1am –  Lunch, Dinner, Sunday Brunch, & live entertainment seven nights a week.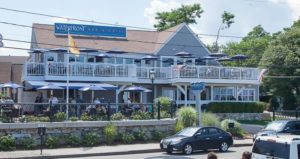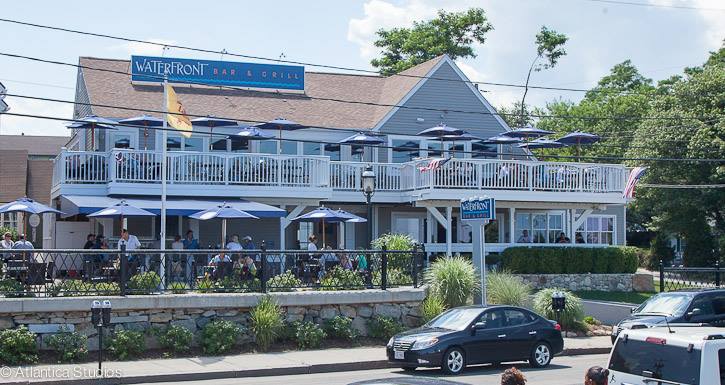 They  are also the home of the South Shores only outdoor raw bar where you can watch one of our shuckers, shuck your order of local oysters or little necks.  Brunch is also available every Sunday from 11am to 2pm.
There is always something going on at the Waterfront with live entertainment 7 nights a week ranging from trivia, to acoustic duos and trios, to DJ dance parties and full band on the weekend nights.
Make the Waterfront the destination for your next family and friend special occasion or work gathering.  Our function room can accommodate groups of 25-55+ seated guests for an event and offers ocean views as well as its own private bar.
Our fun, fresh and affordable concept will appeal to any appetite with our lunch menu available Monday – Saturday 11-4 and our all day dinner menu available daily 11am to 10pm. We feature a variety of offerings from daily specials, appetizers, salads, sandwiches, entrees and pizzas which utilize the freshest available ingredients.
Check out where Swampies dine out on the Plymouth Waterfront 
Here is the Swampie buzz of The Waterfront Bar & Grill
Really nice dinner at the Waterfront in Plymouth tonight. Ordered the Quahogs…delicious. I had the seafood casserole and my handsome date had the surf and turf. My casserole was missing the advertised bread crumb topping and the surf and turf wasn't hot off the grille, but it was amazing! We mentioned these things to the waiter after we had cleaned our plates (note no pictures…it was great) and the manager, John, came over to make it right. We told him it was so good, but he still bought us a round to make up for it. Great service from our waiter, Tom, and the visit from the manager was just good customer service. We will definitely be back!!

Another good meal at the Waterfront Bar & grill. Good Duxbury oysters, love their seasoned bar fries. DD got a plain Caesar salad and we split their crab cake Cesar. Both were great.

Last night at 7:30 the wait for a table at East Bay Grille (outside) was an hour and a half so we went across the street to the Waterfront Bar & Grill. There were two seats at the outdoor bar so we took those. We had half a dozen Duxbury oysters that were very fresh and sweet. We weren't super hungry so we had calamari and spicy bar fries with cheese sauce. Both were cooked perfectly. The order of fries was huge and we were stuffed. The bar tenders were attentive and pleasant

Last day of vacation so hubby and I decided we should make it a good one! Went to Waterfront Bar & Grill in Plymouth for an early dinner. We sat on the deck upstairs (we have two little ones so thought they'd enjoy watching the street and water, which they did). We started with the Kettle Chips, which the kids liked but I thought would have been better if they'd been seasoned a bit. I had the baked stuffed shrimp with a baked potato and hubby had steak tips with rice pilaf. The stuffing in the shrimp was very good but for $22, I felt the portion was small. The menu notes "jumbo shrimp" but these were on the smaller side, butterflied underneath so they appeared a bit larger. The veggies again were not seasoned. Hubby said his steak tips were "eh, ok" and mentioned they were under seasoned as well. Our son had a hot dog and fries which he nearly finished. Our two year old had spaghetti which she decided not to eat (the princess changes her mind every 5 seconds these days!) but I did try her meal and the sauce was (again!!) under seasoned. Overall, hubby and I agreed that the atmosphere was nice and our waitress was very attentive, but food alone wouldn't drive us back there again.

Headed to Plymouth with hopes of eating outside on a day that threatened to rain. We lucked out with the weather and sat on the top deck of Waterfront Bar and Grill to order our fourth lobster roll of the season. Interestingly enough, we decided to split a lobster roll…something I'd warned Paula I'd never do. But apparently one CAN have too much of a good thing. But we will soldier onward for our fellow Swampies in the quest for the best lobster roll.
Waterfront's menu said, "seasoned sweet chunks of lobster meat on a buttered, toasted torpedo roll with lettuce and tomatoes, and a choice of French fries, coleslaw, or rice." (Lettuce and tomato were on the side. There was lettuce in the roll, but I didn't notice it till I looked at the photo!!) The market price was $23.00. (Most expensive of the five places we checked in Plymouth today.)
The verdict? This roll was crispy; the lobster was tender and fresh. The mayo was subtle, but visible. No other additions. It was …good…but not great, and not first on our list of the four we've tried.  (Check out the Great Swampie Lobster Roll Hunt)

Dined at Waterfront Bar & Grill in Plymouth last night with my wife. We sat outside at the bar. Great atmosphere and great time. The food was delicious and the waitstaff was very friendly. Oysters for appetizers were delicious as always. I had the blackened salmon. Which was cooked perfect. My wife ordered the short ribs and enjoyed them very much. No desserts as we very much satisfied with our meals. I will definitely return here again this summer.
Village Landing Marketplace
170 Water Street
Plymouth, MA 02360
Comments
comments