With water views of historic Plymouth Harbor from every seat in the house, Tavern on the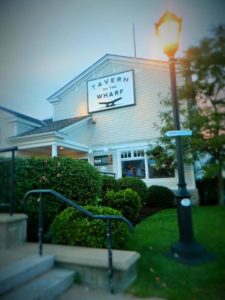 Wharf has become a favored destination for affordable, family-friendly food and entertainment.  Tavern on the Whaf has also been host to a Swamp Mob Number 5. This traditional tavern caters to everyone offering the freshest (off-the-boat) seafood which comes from from local fisherman docking a few yards from the kitchen door! We also have a menu filled with delicious items such as pizzas, juicy burgers and appetizers featuring in-house sauces and dressings. We also have a full line of award-winning drafts, wine, and a craft cocktail bar with fresh fruits, infusions, and more.
Tavern on the Wharf is open daily for lunch and dinner. We also host brunch every Sunday from 11:30-2:00 in addition to lunch and dinner.
Tavern on the Wharf features a 230-seat dining room, two 25-seat bars, and 80-seat outdoor patio. A private dining room with dedicated bar and access to the patio can be booked for private parties and special events. Please contact us to inquire about hosting your next event!
Make sure you check out the Hockomock Supper Club Swamp Calendar as they host  many  food and wine tastings. 
Check out where Swampies dine out on the Plymouth Waterfront 
Here is the Swampie buzz of the Tavern on the Wharf    Plymouth
Tavern on the Wharf – had dinner there last night. 3 of us sat at the bar we were served by Janelle, she was great and knowledgeable of food and the drinks I overheard her talking to others about (as well as us). 2 of us started with the cream of mushroom soup, this had a nice taste and fresh huge sliced mushrooms. 1 ordered the side Cesaer looked fresh and crispy (person is not much to describe taste, LOL) 1 had the Rib Eye topped with caramelized onions special (great taste and cooked just as asked) 1 had the Mac and Cheese with chicken (*he said he'd order it again) so it must've been good. I had the cheeseburger on a brioche roll, little overcooked but I'm not going to send a burger back, came with a big amount of fries, i was pretty full from the soup so i ate the most of the burger minus most of the roll… Yes, it is a great place to eat

We had a group of about 15 classmates who gather monthly for lunch. Swampi Sabrina helped arrange todays lunch at The Tavern on the Wharf in Plymouth. We had a nice quiet room, two very efficient and personable servers. The food was excellent, ample portions and reasonably priced. We couldn't have asked for a nicer time. Many of us said they would certainly return.

Just had a wonderful anniversary dinner at Tavern on the Wharf! My husband had the steak tips and they were so flavorful. I had the short rib bucatini and the sauce was out of this world! I also really enjoyed the lemon drop martini. We will be back!

This is at Tavern on the Wharf in Plymouth. This is from the new fall menu. Carpaccio and literally the best I've ever had. Amazing. Some creative menu options.   this one had a generous sprinkling of fresh herbs. As well as some roasted and sliced something– maybe artichoke. Can't remember. But it was crunchy and spicy. But that is not how it is usually prepared. That's why I appreciated this creative twist.

We went to Tavern on the Wharf yesterday for lunch, beautiful day and we sat outside. We both decided to get the Portside Biscay – it was great tasting, the only thing I was a bit disappointed with was there really wasn't much for the price of 26 no other sides come with it. I counted 3 lobster claws, 4 shrimp (with shells on tail), 5 scallops, some lump crab (this was hubby's plate – i think he got more crab than me) 1 potato cut into 1/4's and croutons that were crunched up over it, with I guess maybe couple of tablespoons of lobster bisque as a sauce. It was good, but for the price I definitely would not get that again, just didn't seem worth the price for the size.
We are definitely going back, but lesson learned

After a bike ride at Myles Standish State Forest, we went to Tavern on the Wharf, since we missed the last Swamp Mob. The food was great – we both had the Mr. Piggy burgers, which we huge and cooked to order. I had the Parmesan truffle fries – yum!! Rick had the onion rings, also very good. Lucky us, they were trying to finish up their summer beers, so we were able to get $3 drafts! The only problem was with the service. We mentioned to both the hostess and our server that we were Swampies and they were both familiar with the group. Our server, however, took a while to get to our table to take our drink order, she wasn't unpleasant, but she wasn't particularly cheerful and welcoming either. She brought out food promptly, but then disappeared and never checked back in with us about our meals. She eventually reappeared, but then disappeared again and it took forever to get our check. Bottom line, food was great, but they'll need to pay attention to their service.

My husband and I tried Tavern on The Wharf in Plymouth today.We decided to sit at the bar for a drink and late lunch.I liked the look of the restaurant.The bar had a pretty good selection of draft beer ( which we each ordered).Its kind of a mixed review on the food, My husband ordered a classic cheeseburger and upgraded to the truffle fries.He liked the burger, it was a half pound and nicely cooked, both he and I thought the $4 upgrade for the truffle fires was pricey, they seemed like they just had some Parmesan and garlic sprinkled on top.I had the lobster roll, which was just ok for the price, I found lots of little pieces of shell in it and the brioche roll was a little too much bread for the amount of lobster in my opinion.I felt it was a little pricey for the amount of lobster at $22…….. I would try it again but I wouldn't order the lobster roll again.
TAVERN ON THE WHARF
6 Town Wharf,
Plymouth,MA
508- 927-4961
Comments
comments