Surfside Smokehouse  Restaurant is  Authentic BBQ and local seafood on the Plymouth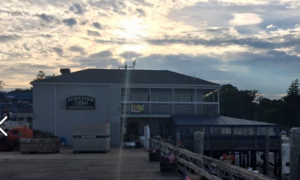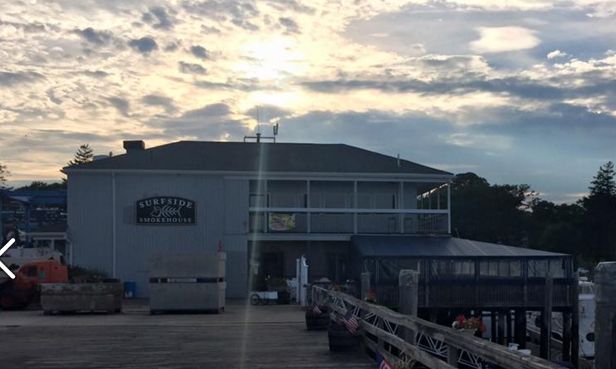 Waterfront. and Marina.   Surside has been a host to a Swamp Mob brunch.    The restaurant  is a build your own experience kinda place. The sandwiches come with your choice of side with our four sauces on the tables for you to experiment with. The A la Carte options let you mix your Surf and Turf and share your sides of grilled and roasted veggies, or our signature mac & cheese. There is fresh shucked raw bar, house made chowder, and the biggest lobster roll around for a great New England experience. Or, you can have a jar of candied bacon, smoked wagyu brisket, and pulled heritage pork for a meat lovers extravaganza. What ever your pleasure Surfside Smokehouse lets the ingredients be the stars both in the kitchen and behind the bar.
The bar at Surfside Smokehouse centers around fresh fruit blended drinks and a great selection of craft canned beers. With great views, a casual atmosphere, and good ingredients Surfside Smokehouse is a great place for anyone anytime!
Check out where Swampies dine out on the Plymouth Waterfront 
Here is the Swampie buzz of the Surfside Smokehouse   Plymouth
We just stopped at our favorite restaurant for sweet smoked chicken wings and homemade baked mac and cheese at my daughters request after spending the weekend at BID! We love Surfside Smokehouse

So given the great reviews Hubby and the family decided to head to Surfside Smokehouse in Plymouth and we ARE SO HAPPY WE DID !!! Restaraunt was pretty quiet tonite which was nice and the view is beautiful at sunsetALL THE FOOD, was amazing. We brought a ton home but tried a bit of a bunch of stuff because we just couldn't decide lol Pulled pork quesadillas , Fried chicken , kielbasa, ribs, shoulder burnt ends, diff bbq sauces, mac n cheese, corn, potatoe salad and cole slaw ..one thing was better than the next. Our server Denise was fantastic and attentive and Jimmy Agnew and Cheryl checked in numerous times to see how everything was. We will DEFINITELY be back and can't wait for our leftovers which should last us two more meals lol.

We went to Surfside Smokehouse last night, and it never disappoints! Friendly conscientious staff, excellent service and delicious food! I had the Surf and Turf burger. That's a burger topped with lobster and fried onion straws, Swiss, and lime aioli. You can choose either have one ($12), two($14), or three patties($16). You can get it with either fries or a different side. I choose to have cabbage and kale slaw, I love it! My husband had a special, it was a braised short rib sandwich. He chose to have his with grilled asparagus as a side. The meat just melted in your mouth! This restaurant has the closest to the water view in Plymouth. It's a million-dollar view and excellent food. When it gets warmer the outside deck downstairs is open. This is one of our favorite places to go in Plymouth, we will definitely be back!

We started with kielbasa and pineapple "candy". My son had a burger & I got the special = short ribs. Both very tasty and finely cooked. Finished with bread pudding & mascerated strawberries. They have 2 of their own BBQ sauces… standard sweet flavor style & a mustard blend, both very tasty.

Took my wife out to Surfside Smokehouse in Plymouth for dinner tonight. It was our first time there, and we sure weren't disappointed!! I had the Fried Chicken Special and Lynn had the Blackened Salmon Tacos. My chicken was crispy, moist, and very tasty. She iked her tacos so much that she ate both of them, which she rarely does (usually has leftovers the next day). My chicken came with cheese grits, which I was reluctant to try because I'm not much of a grits fan, but I'm glad I did! We both also had the kaleslaw, which we agreed was better than any slaw we'd ever had in a restaurant before. For dessert, we shared the Macerated Strawberries, which were light and delicious. We also met the manager Jimmy Agnew, who showed us around the part of the restaurant where they are planning to have our Swamp Mob breakfast buffet. A great meal for a good price, in a fantastic location on the Plymouth harbor – what more could we ask for?

We went to Surfside Smokehouse for lunch today – Good food and good service. 2 sliced briskets …1 with baked beans and one with mac and cheese. We enjoyed our meals and I came home with some left for later! I think I would have preferred the mac and cheese with a traditional toasted cracker crumb topping rather than the crushed goldfish (?) spooned on top. (Probably because the mac and cheese is prepared stovetop rather than baked?) But it was good. We expect to visit again before they close for the season.

We just returned from an early dinner at the Surfside Smokehouse and it was AWESOME.
My husband Bob choose the Surfside for his birthday dinner and it definitely lived up accolades it has been receiving.
For an appetizer we split the lobster and corn hush puppies, which were tasty and ample in size. For our entrees Bob ordered the selfie (your choice of 2 meats and two sides) He picked the brisket and the pulled pork, with the Mac and cheese and coleslaw for sides, I ordered the smoked kielbasa with a side of beans and we shared everything. The meats were flavored nicely and all the accompanying sauces were tasty. The beans had a nice "bite" to them and the Mac and cheese was perfect, not too heavy or overpowering. For beverages, we went with the lemonade, which was some of the best we've had. We left with full bellies and a bag of leftovers to enjoy tomorrow.
14 Union Street
Plymouth, MA 02360
508-927-4111
Comments
comments