Located on Plymouth's Town Wharf, East Bay Grille offers signature New England dining with water views.    From fresh seafood, pastas and choice cut steaks, to salads, sandwiches and savory chowders, our menu strikes the perfect balance between classic and contemporary dishes to satisfy every palate. Complement your meal with the right atmosphere; choose from our spacious dining room, lively bar, or scenic outdoor patio.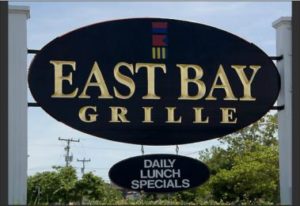 You know the saying, "You can never be overdressed…" We ask that you dress business casual;
please, no hats after sundown and, gentlemen, no sleeveless shirts.     East Bay Grille is upscale night out perfect for an an anniversary dinner or a special occassion.
Check out where Swampies dine out on the Plymouth Waterfront 
Here are some Swampie  buzz of  East Bay Grille
My husband and I had our anniversary dinner here this evening. What a beautiful spot. We've been by here so many times but this was our first time dining. Valet parking, indoor or outdoor seating. We asked for an outdoor seat closest to the waterfront. For starters we had the calamari, clam chowder and a simple salad. The calamari was very good, delicious dip. Clam chowder was just ok, too seasoned for my taste with red bliss potatoes(skin on) and bacon. Not the best I've had but still good. The salad was definitely larger than your traditional side salad. I had the baked scrod with bread crumbs, a baked potato (salted) and green beans. Good portion and very fresh. My husband had the steak tips, rice and green beans. Cooked to his liking and well seasoned. No room for dessert. Definitely a great spot by the waterfront with a gentle breeze, perfect for any night out. No entertainment tonight but I hear they do on the weekends. Thanks for suggesting we had a great time!

Check out the lastest restaurant deals South of Boston 

Went to East Bay Grille tonight in Plymouth. I usually get the salmon salad, it's my favorite thing on the menu; but tonight I had the steak tips, they were tender and delicious. Best of all was our server, Shannon, she was phenomenal; attentive, friendly and knowledgeable. She went above and beyond.

My friend and I went to East Bay Grille in Plymouth for lunch today and the food and drinks were great!!! My friend had the mixed grille special and I had seafood saute both were excellent!!! The drinks were great and the waiter Michael was the best!!!

Went to East Bay Grille last night for date night. Sat in the bar side, in a booth. Had a great dinner. Chicken on the bone, asparagus, mash potatoes. Yum! My husband had the steak tips, mash and veggie mix. Yummy too! Great service and I love it down by the water. We walked around after dinner
We started with a Margarita for J and a Rum Boat for me.    We shared a delicious appitizer of Scallops wrapped in Bacon.  (Don't you be counting my Bacon intake today!!!)
I had a wonderful piece of Chili Rubbed Salmon   with Basmati Rice and Broccolini.
Scrumptious.  The Broccolini was undercooked.  Joe had the Steak Tips  with Vegetable Rice and Green Beans.  The Green Beans were also too undercooked. The Tips were served slightly more well done   than the Medium he asked for,  but compared to the nursing home food  he has been eating, it was very good.  We shared a Chocolate Lava Cake
which disappointingly didn't erupt and flow.

We went to East Bay Grille in Plymouth. OMG A+++++++. We started with the shrimp and scallops appetizer, lemon, oil garlic with sundried tomatoes, spinach and grilled cibata bread drizzled with balsamic goodness. I had the Sesame crusted Chilean Sea Bass with perfectly cooked sticky rice and sautéed kale mix with teriyaki sauce and mango salsa. Best meal ever. Hubby had the sirloin with blue cheese sautéed onions. Cooked to perfection, mashed potatoes and spinach. He loved it. The cucumber lime martini was perfect with my meal. Can not wait to go back. Great atmosphere, staff and location.

We ended up at the East Bay Grille in Plymouth. Two words: EAT HERE. Tourists and locals alike pack the place, and although there's sometimes a wait, the food always compensates for the slight inconvenience… We sat outside on the patio that overlooks the water, it's beautifully landscaped with plenty of flowers and some great Adirondack chairs to relax in, along with a covered bar area. The menu offers a wide variety of mouth watering starters along with a raw bar. Our group started with a few appetizers which consisted of clam chowder and risotto balls- all of the items were fresh, delicious and piping hot from the kitchen. Entrees consisted of fish and chips, fisherman's platter and lemon/garlic chicken with ziti served with summer vegetables on the side. Entrees were fairly priced,service was above and beyond, atmosphere was fabulous and the food was incredible.

Lunch today is at east bay grille on Plymouth waterfront I got chicken Caesar salad wrap with fries and my mother got pork tenderloin with pancetta and Brussel sprouts. Last day to get out for lunch during the week back to work Monday. Both meals were really good. I also had a bowl of beef barley soup which was absolutely delicious. The waitress was also awesome and quick.

Went to East Bay Grille last night. I got the heirloom tomato salad that was on special. It was giant slices of heirloom tomatoes with fresh mozzarella cheese over mixed greens with a bacon balsamic vinaigrette. It was delicious. My friend got the risotto balls and lettuce wraps. She said the lettuce wraps were fantastic but the risotto balls she thought were on the dry side. Fabulous presentation on all items.
The entertainment was a band (sorry don't remember the name) they were very talented and sang a lot of 70's tunes. It was fun just "people watching" everyone on the ddance floor!! smile emoticon A great time. I love it there.
East Bay Grille
Hours:
Monday through Sunday
Lunch: 11:00AM – 4:00PM
Dinner: 4:00 PM – 10:30PM
Sunday Brunch: 11:00AM – 2:00PMouwates173 Water St Plymouth
Comments
comments