42° North Restaurant & Lounge in Plymouth   aims to be the destination spot for the freshest local and exotic seafood, perfectly grilled steaks and a creatively executed menu. The menu features an array of both fish and beef dishes as well as a wide selection of pasta, chicken, soups and salads.   42 degrees  North   is owned by the  South Shore restaurateur Kevin Hynes and the Hynes Restaurant Group which includes Stiockholders in Weymouth,  The Inn at Bay Pointe in Quincy and soon to open in Weymouth Precinct 10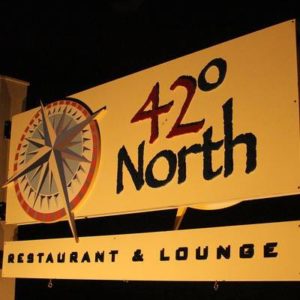 For seafood lovers, the chef offers the "42° North Fish Market Menu", a separate selection above and beyond the normal daily menus, that boasts a variety of fresh fish that can be prepared to your specifications.
The seafood offered on any given day depends on seasonality and availability and will change on a daily basis depending on what the fishermen can supply, just like an actual fish market. The emphasis at 42° North is on freshness and quality and providing sizeable portions at reasonable prices. This has been our mission over the past 30 years encompassing our 10 different South Shore restaurants. This, our newest establishment, seeks to keep you coming back for more through providing great value in a classy yet beachy and fun atmosphere. Peruse our menus and photo gallery here on our website and do not hesitate to call us if we may assist you in any way.
Check out where Swampies dine out on the Plymouth Waterfront 
Here is the  Swampie  buzz of   42° North Restaurant
The cauliflower appetizer at 42 Degrees North in Plymouth is one of the best new wave of offerings I've tasted. Yes, it goes beyond the Brussel sprouts with bacon and other dishes. The kicked up cauliflower is so full of flavor it reminded us of General Gau chicken, but so much better.
The restaurant and patio were both doing a brisk business for a Wednesday night. My daughter and I ran in for a bite to eat on our way to the Priscilla Beach Theater (review will be on sister site, but see whatever production you can't the PBT. It's wonderful.)
Sorry got off topic.
We split the cauliflower topped with, among other things, scallions and sprinkled with red pepper flakes and also split a salad of greens, cheese, walnuts and pears. But realized as we ate, the pears were missing. Not to worry, the gal behind the bar (the only seat where we could grab a quick bite) was taken back by the omission and had sliced pear delivered to us promptly. It made the salad.
Service was top notch. She even brought beverage refills automatically. And the cauliflower will call my name very soon, I'm sure, though I don't need any enticement to go to 42 Degrees North or any of its sister restaurants for that matter.

Celebrated our wedding anniversary at 42 degrees north in Manomet last night. I finally splurged on the baked stuffed lobster. It was worth every penny! I'm pretty sure it was the best meal I've ever eaten! Hubby had the short ribs which melted in his mouth. We had a wonderful waitress, Christine, who made us feel very special! Best restaurant around by far!

My girlfriend and I went out for our weekly lunch to day at 42 degrees in Manomet. We both had the mix grille steak tip s chicken and shrimp, rice and grilled zucchini. Everything was great. Matt was our waiter and was very good. The bloody was the best I have had in along time!!!!

Just wanted to say thanks for the suggestions about lunch in Plymouth. We ended up choosing 42 Degrees North in Plymouth.
We were not disappointed! This place was really good. Nice atmosphere and decor, pleasant staff and great food at reasonable prices for lunch. Between $10-15 for the lunch menu.
We got the braised short rib sandwich, fish tacos (was one of 3 lunch specials) , fried mac n cheese app, and my grandparents both got the fish and chips. Everyone was extremely happy with their meal. But omg, that braised rib sandwich was sublime. I literally didn't put it down after the first bite. It's definitely a place to check out. We will be back again.

My friend and I went for our weekly lunch. We went to 42 degrees North in Plymouth on rte 3a. It was one of the best meals my friend and I have had for lunch. We both had the grilled plate and it was cooked perfect. It had steak tips, sirloin steak , shrimp and chicken. It had a spicy rice and grilled zucchini. Also bread with oil and dip. I have enough for another meal and it was only $15.00. The drinks were very good and the bartender and waitress were top shelf. I don't take picture because I can't stand to see people on their cell phones while they are trying to eat. I guess I am out of the loop!!!!

Went to 42 degrees north in plymouth with my mother and sister it was delicious as always we started with the mussels in white wine no picture as we dug right in we always get them and the were perfect as usual! My sister got a crock of there french onion soup and the appetizer eggplant napoleon as her meal they both were very good only gripe was she found two pieces of onion skin in the soup. My mother got the stalter chicken with mushroom bacon risotto and spinach it was delicious. I got the beef short ribs with root vegetables and mashed potatoes they were melt in your mouth tender. We go there often and always leave full and happy drinks were yummy as well my mother had her tried and true bacardi and diet I got a red sangria and Moscow mule my sister had a specialty drink and a Moscow mule if you haven't been yet you need to try it!

We ended up going to 42 Degrees North tonight. It was phenomenal!! We got lucky with 2 seats at the outdoor bar and our bartender was awesome!! The drinks, food and service were incredible!!! We shared the antipasto board for an app and both got 2 lb baked stuffed lobsters. There were 4 claws, shrimp and scallops and the entire tail in the lobsters. I couldn't even touch my sides. Enough of everything left over for tomorrow nights dinner. We'll definitely be going back!!

Being a weekend we included our men in today's adventure. Looking for outdoor seating on a beautiful day we went to Plymouth, and had seen good reviews on 42 Degrees N. We hadn't thought about whether it was on the water (it wasn't) but they DID have lobster roll on the menu. 3 out of 4 of us ordered it. Ok, SO FAR- THE BEST! Grilled hotdog roll, small amount of mayo and celery- not quite undetectable, thin chives/a seasoning or herb, not quite sure but GREAT flavor. Little bit juicy, tender, felt much fancier yet true to itself than the others that now in comparison felt more "fast food" or "take out". Of course In fairness, having a fun summer cocktail with it may have helped give it an edge- we did say in a previous post that atmosphere may sway our opinion. Haylee our waitress was great, and dealt well with our silly selves- good for you Haylee!! All in all our rolls were fabulous, only thing that could make it more perfect would be being oceanfront- ok, well Ruth may have liked less claw but overlooked that because of flavor. A side note, appetizer calamari was decent, beet salad with pistachio and goat cheese lovely, dessert decent, company excellent as always!
Open Year Round, Daily for Lunch & Dinner
Lunch:
11:30am-4:00pm, Daily
Dinner:
4:00pm-10:00pm, Sunday-Thursday
4:00pm-11:00pm, Friday & Saturday
Lounge:
Open late every night
t 690 State Road, Manomet, (plymouth)  MA 02360
Comments
comments