Srios  restaurants  is an  Italian restaurant   turning out pastas, entrees & pizzas, with outdoor seating overlooking Marina Bay in Quincy MA.  Siros is part of the East Drink Mingle restaurant group that also include Port 305 and Blue that are on the boardwalk as well.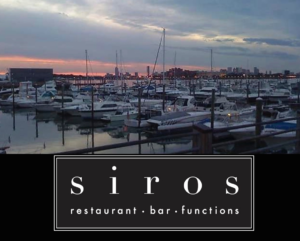 Where to eat on Marina Bay Quincy
Here is the Swampie buzz of   Siros n  ItaliaRestaurant Marina Bay
My sister and I took my mom to Siro's at marina bay for Mother's Day. Had made reservations , got a nice window seat. Even though the weather was not that great the view was still nice. Had the best waitress Jen. Came over and took are drink orders right away. They had a special menu for Mother's Day. We started with the Lobster Bisque. It was very good. My sister and I ordered the Filet with Lobster. Came out just how we ordered it. Was a good size filet.. Also came with two good sized lobster pieces. Mom got the scallops which was also good. The waitress Jen was excellent. She checked on us thoughout the meal, even when she had a lot of other tables including a large party.

Went to Siros in Marina Bay last night with my cousin. Wow…we seated outside under cover looking out over the harbor and with a view of Boston. Then the downpours and thunder and lightening started! It was awesome…because we were out there but under cover! We started with rolled eggplant which was thin sliced with some kind of cheese (goat maybe) and lightly fried. To die for. Then came beet salad which is always a huge favorite…the roasted beets and whipped ricotta/goat was delish! Next…seafood risotto. OMG. Huge pieces of lobster and large scallops and large shrimp in a delicious cream sauce. So not good for and worth every calorie! Dessert was tiramisou. Creamy and sweet and a great ending! Our waitress was so busy and so sweet! Can't wait to go back!!

Great food always ! Chicken Parmesan is fantastic. Caesar Salad is fantastic.
Eggplant Rollitini is excellent and the
Hummus and bread is great too !
Have never once had less than an excellent
Meal here… The staff is very professional
And friendly , and always provide perfect service. The place is very attractive inside
And the views are nice too ! Have been going here since it first opened and Will always go back

Have been here for many functions (showers, birthdays, retirements) and many more times just for lunch/dinner. Always love it! Location food and hospitality are wonderful.

This place could not be more perfect! Took my husband for
his birthday dinner and was everything we wanted it to be. Our waitress, Jen was so pleasurable and always made sure we were happy. Food was amazing. Can't wait to
visit again.

Took my aunt for her birthday lunch and the food was great! the  waitress Liz was  awesome. They were very friendly and accommodating. Great place to celebrate special occasion. Nice boardwalk and view added. Will come and dine again!

We enjoyed amazing, delicious pan seared halibut on a bed of lobster and corn risotto today! Absolutely delicious! Beautiful day on Marina Bay boardwalk at SIROS
2016 Spring and Summer Kitchen Hours –
Sunday Brunch, Lunch and Dinner 11 – 10
Tues – Wed -Thur – Fri – Dinner 4 – 10
Saturday Lunch and Dinner 11 – 10
We will be open on Monday, July 4 and Monday, September 5!
Siros Restaurant, 307 Victory Road, Quincy (Marina Bay), MA 02171.
Comments
comments