Swampies are discovering a a new (and first  food truck  in Bridgewater  Uncle Shawarma – They love the prices, the convenience and – above all – the cuisine.  It openned in September 2016 and has been favorite of both swampies and students at Bridgewater State University.
The food  truck, owner and chef Maged Tobia dishes up Mediterranean delicaciesAll Posts such as lamb and chicken and falafel stuffed into pita bread or over rice and domestic favorites like onion rings, fries and cheeseburgers.
Here is the Swampie Buzz
yes, yes, yes to UNCLE Shawarma's food truck! I had the lamb gyro, and Dave had the uncle shawarma mix. deeeelicious.

My 3rd time at UNCLE Shawarma. I'm THIS close to letting them park in my driveway. Do yourself a favor..
Uncle Shawarma has landed at the train tracks near BSU and he has some fantastic food…today he will be open starting at 11:00…everything is fresh and delicious…I have been saying that my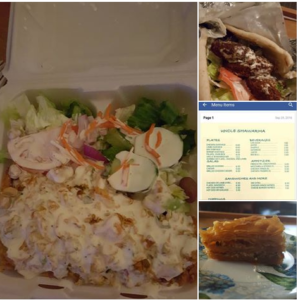 hubby, who I would consider a non-foodie type, has bought food from Uncle Shawarma about 6 maybe 7 times over the last 10 days..it's just that good…and when he was there Saturday, the owner and operator Maged Tobia came out and gave him a slice of Baklava for me…word of mouth is the best way to keep our small businesses in business…take my word for it…get to the Uncle Shawarma truck today or as soon as you can…you will be happy you did
Got the Chicken over rice, lamb gyro and a side of falafel. My 9 year old was in heaven and asked when we could go back!!!!
We felt like having gyros for dinner tonight so we went to the new food truck in Bridgewater, Uncle Shawarma. I had the chicken gyro and hubby, Kevin LaGarde, had the lamb. The portions are huge as you can see, and I like how they add sautéed onions to the meat. Add the homemade sauce and you have a delicious, flavorful sandwich. Definitely give them a try and support our local businesses!

A must try!!! If you like an authentic lamb gyro "uncle shawarma" by the RR tracks in Bridgewater on 104 is for you!! I wish I had a better pic! Having to take a left is a small price to pay for this awesomeness!!!

I read an online post from one of the papers about this food truck, which is new to town. The word baklava went straight to my brain, so I hopped in the car and headed off to look for Uncle Shawarma. The bright blue truck is parked on the right as you head out of the center toward the college on 104, by the tracks. (It's parked in A-American Roof's lot.)  
Nice guy running the business, friendly and generous to me as a first timer

Delicious!! A big portion of seasoned ground lamb served over lettuce, tomato, onion and pepper on pita bread. A real two fisted meal! I ended up eating it with a fork but if I'd left it wrapped in foil it would have been easier to eat. He asked if I wanted hot sauce on it. Good thing I asked for it on the side, because as he said, it's VERY hot.
Uncle Shawarma
Hours Monday-Saturday 11-10pm
85 Plymouth st
Bridgewater, Massachusetts
Comments
comments