True North Kitchen and Bar is now open September 2017   in the space occupied by Kelly's Landing in North Weymouth  on Route 3A  for over 30 years.    It  "modern American tavern" with "updated comfort food and classic tavern food," with local beer.
Here is wha their facebook page has a description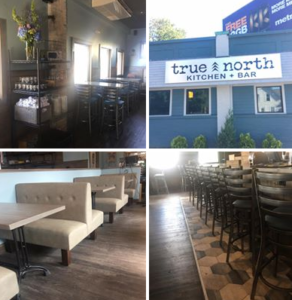 True North Kitchen + Bar will located in North Weymouth, MA. We plan to become the premier neighborhood Tavern in the Weymouth, Quincy and Hingham area. True North will offer the best combination of service, quality, and value. We are straightforward, knowledgeable, helpful, and unpretentious. We are also dedicated to creating a dining atmosphere that we ourselves would be drawn to. One that includes an inviting bar and dining room with comfortably spaced tables that allow for easy conversation.
We will offer reasonably priced food and drinks, music at a decent decibel level and lighting that enables even Baby Boomers a chance to read the menu. A friendly, knowledgeable and thoughtful staff will take care of, spend time with, and take a genuine interest in their guests. We believe our key to success is an everyday understanding that taking care of our staff will translate to our staff taking care of our guests, which in turn will take care of the business. We can't wait for you to join us!
Here is some of the buzz so far
Just happened to drive by this lovely new North Weymouth "kitchen with a bar" on their opening day, hesitated to go in as we were expecting a lot of kinks needing to be worked out- we were so surprised and grateful we made the stop. Service worked like clockwork, food delivered before even expected! The staff treated us like we were old town friends, professional and friendly. We had the chicken poutine and Mongolian chicken fingers, and a phenomenal Berry Sangria shortcake! We will be back to try the entire menu!

We hesitated to stop in last night thinking there would be delays in service being so new. How wrong we were. Our server was great, overall service spectacular. We shared the Mongolian Chicken and ordered the Mac n Cheese and Fish Tacos. Definitely not disappointed and all very good. We'll be back to try more.

The chicken pot pie poutine is to die for!  fish tacos came with two shrimp and a white fish in eat taco, breaded and fried to perfection. And the Moscow mule I had to drink at the bar… delicious!

We were there last night very nice inside and the food was great We started with a fried calamari special it had house made fried pickles in it, it was very nice, my wife had the swordfish with pastrami spice rub, toped apple-mustard relish, very moist ,nice portion and I had the steak frites 8oz sirloin with bernaise sauce French fries (that were done great),and a small salad. The service was spot on, nice people that own this place, We will be back.
159 Bridge Street
North Weymouth, Massachusetts, MA 02191
Comments
comments