The Tinker's Son  an Irish Pub and Restaurant in Norwell  was recently featured  in food section of Wicked Local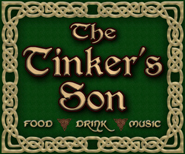 The Tinker's Son, located Norwell center. This traditional Irish pub offers a menu full of belly-warming comfort food recipes straight from the Emerald Isle, like fish and chips, traditional lamb shank Irish stew and the ever-favorite bangers and mash. After dinner or weekend brunch, grab a pint and head into the main dining room to catch a set with one of your favorite local musicians. We sat down with chef and owner Brian Houlihan who told us every dish at The Tinker's Son is cooked from scratch to combine fresh, local flavors with traditional Irish fare.

What's the philosophy behind The Tinker's Son?
I'm a chef by trade, and I believe in good quality food. Although it's a pub and has that pub feel, the food is all made from scratch and we don't take any corners–that's the case in all three of our restaurants.
How did you come up with the name for the restaurant?
The Tinker's Son was a poem my dad wrote in 1952, so its paying homage to him. It's a story about the son of a tinker–a gypsy traveler–and how you shouldn't judge a book by the cover. In the poem everybody thought because this guy was the son of a tinker that he was no good, but he ends up becoming a parish priest.
What are the most popular dishes?

Shepherd's pie, fish and chips and Irish lamb stew. People misconstrue Irish stew as the thicker beef stew that's popular here in America, when traditionally it's much lighter. In Ireland it's braised lamb neck or chop — here we use the shank on the bone — with root vegetables, cabbage, barley and parsnips served in a light beer and wine broth.
A few Swampie have shared their reviews and buzz 
Thanks for all the brunch suggestions. We decided on The Tinker's Son in Norwell. I'll admit to being a little hesitant when we arrived. It's an odd building with peeling paint, just a bit sad looking. Thankfully the inside was a pleasant surprise – decorated with photos of Ireland, with a nice fireplace and lots of seating. We didn't have a reservation so the hostess was so apologetic that we'd have to wait if we'd like a table. She did have 4 seats at the bar if we wanted to have brunch from the buffet. When we asked how long the wait was she said it could be as long as 10 mins – in reality it was more like 4 mins and she was still so sorry that we had to wait. We sat in front of the fireplace, and although I was afraid it might get too warm it was just right.
Our server was in high spirits – she obviously loves working here. She was helpful and playful, and got everything right.
We all ordered off the menu rather than the buffet. And we all enjoyed our dishes. An omelet cooked just right. Irish eggs Benedict. Poached eggs, fried eggs, home fries. The marble rye has carraway seeds (as I think it should), and the corned beef hash was freshly made with chunks of meat & potatoes (no way it came out of a can).
The coffee was good & she refilled cups without being asked. I haven't had a Bloody Mary in a long time, but there was no way we could pass up the make-it-yourself Bloody Mary bar. 3 of us tried the bar & we all used different mixers (tomato juice, V8, house mix) & there were so many garnishes to choose from. My favorites – ham & cheese stuffed peppers and crisp bacon.
The room looked crowded but didn't feel crowded. It was loud with conversation & laughter but we could still here the musicians playing Irish music in the background. It was the first visit for all 4 of us & I'm sure we'll be back!

We ate at Tinker's Son in Norwell this morning. They have a great Sunday Brunch, and live Irish music starting at 11 on Sundays. This is the third time I've had brunch there in the last few years, and I really enjoyed it every time. Our waitress was also very personable.

Tinkers Son is good… Irish Tavern family style  good food – menu & buffet, make your own Bloody Mary bar & usually a handful of local musicians playing some irish tunes.

We went to The Tinker Son's in Norwell this evening the service was good. Our waiter had numerous tables both inside and outside and did a decent job of service. The clam chowder was excellent and our main courses consisted of Guinness braised short ribs which my Sig said tasted excellent. I had the Fricken Chicken which was cooked perfect and tasted good. Their was a group of Irish Musicians playing and added to a great atmosphere of the pub. We will definitely be going back in the near future.
707 Main Street, Norwell, MA. 781-561-7361
Mon-Fri 11am-1am / Sat 10:30am-1am / Sun 10am-1am
Comments
comments