Two local Swampie ladies took upon themselves to go on a great lobster roll hunt during the summer of 2015!  Thank you ladies!!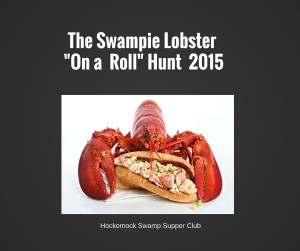 They would  eat and evaluate using a number of criteria: flavor, quality oflobster, the mayo mix, size, the bun, price, etc. and report back with our findings.
"On a Roll" HONOR ROLL !!!!!
Da, da, dada!!!! Trumpets blaring! Drum roll please….
The moment you've been waiting for… at least WE'VE been waiting for it. Finally, we're done!
We stayed local.Our top three… in no particular order. (We like them each for different reasons.)
**HIGH HONORS:
CAPE

COD

LOBSTER ROLLS

211 Onset Ave, Onset MA   (Onset MA): Their buttered lobster beat out the one with mayo—we tried both.
Headed to Wareham, planned to check out Vel's and Cafe Soleil since we had seen reviews from Swampies on both. Being a little early for dinner we headed toward Onset beach and LO AND BEHOLD we came upon a sign that said CAPE COD LOBSTER ROLLS!! Well we couldn't ignore that, so in we went, told the proprietor who we were (Ruth gave a card) and what we were doing. They opened Memorial Day and he INSISTED that WE WOULD NOT FIND A BETTER LOBSTER ROLL! The sign said served w a little mayo and seasoning but if you want more mayo or just butter to let them know. So we opted to get their standard, and also one just butter and share each (hence the roll 5 and 5b- I would call 5 and 6 but we were at the same place so it doesn't count)
We were not disappointed- but surprisingly to us- the winner of the 2 was…. Just butter! Lobster was not warm and no noticeable butter, as in not drippy or soggy but great lobster flavor.
-Served on a side sliced butter toasted (on outside) hotdog roll with Cape Cod potato chips and a pickle.
Ruth's weigh in:
Pro: The place is all about lobster. It was nice to find a place that offered BOTH lobster rolls with butter and with mayo.
Con: small place with take out only, and just two small tables on sidewalk.
Paula's weigh in
Pro: this is the first roll that had noticeable tail meat. Had nice chunks with firm bite to it-but in a very good way and nice lobster flavor
Con: the seasoned one wasn't my favorite
42 DEGREES NORTH Plymouth
690 State Rd, Plymouth, MA 02360  The subtle seasoning in this made it more upscale.
Cost $16.99  Comes w/choice of starch including homemade kettle chips or sweet potato fries- both great.
Being a weekend we included our men in today's adventure. Looking for outdoor seating on a beautiful day we went to Plymouth, and had seen good reviews on 42 Degrees N. We hadn't thought about whether it was on the water (it wasn't) but they DID have lobster roll on the menu. 3 out of 4 of us ordered it. Ok, SO FAR- THE BEST! Grilled hotdog roll, small amount of mayo and celery- not quite undetectable, thin chives/a seasoning or herb, not quite sure but GREAT flavor. Little bit juicy, tender, felt much fancier yet true to itself than the others that now in comparison felt more "fast food" or "take out". Of course In fairness, having a fun summer cocktail with it may have helped give it an edge- we did say in a previous post that atmosphere may sway our opinion. Haylee our waitress was great, and dealt well with our silly selves- good for you Haylee!! All in all our rolls were fabulous, only thing that could make it more perfect would be being oceanfront- ok, well Ruth may have liked less claw but overlooked that because of flavor. A side note, appetizer calamari was decent, beet salad with pistachio and goat cheese lovely, dessert decent, company excellent as always!
Ruth:
Pro: tasty, moist, flavorful with subtle additions Like finely chopped celery and chive that didn't overpower the lobster.
Con: I honestly don't have a con for this lobster roll. The best of three so far. Outdoor seating left one of the husbands valiantly squinting into the sun.
Paula:
Pro: lobster deliciousness
Con: none other than scenery would have added to atmosphere.
PILGRIM SANDS MOTEL (Plymouth)
150 Warren Ave, Plymouth, MA  Not on a traditional New England hotdog roll, but delicious lobster mixed well with the Calise roll.
 We take your recommendations seriously and arrived at Pilgrim Sands- call me crazy but it just sounded a little off to me to be going to a little motel (I found out it is a hotel) for my lobster roll.   market price-$18.99(?) choice of potato salad, tortellini salad or chips, also pickle and raw veggies
Ruth:
pro: big portion, chunks of claw meat. Hint of lemon was subtle and delicious.
con: nothing–this is in my top three. I did add a little salt and pepper.
Paula:
Pro- nice flavor! Roll surprised me and was really good with the lobster (spoil alert- toasted not buttered Calise roll from BJ's!!)
Con- would roll taste even better buttered on the inside?
**HONORS:
GREEN HARBOR Lobster Pound (Marshfield):
131 Beach St, Green Harbor, MADelicious and fresh—the smaller version on the buttered hotdog roll was our pick, rather than the famous "jumbo" on brioche.
Following recommendations from Swampies, we found ourselves at Green Harbor Lobster Pound- 2 sizes regular and jumbo. Which one? Ok let's get both! Why? Because jumbo is served on brioche and is the meat of 2 lobsters we are told, and regular is on the grilled hotdog roll that we both like. So both in our hot little hands- jumbo in Ruth's, regular in mine. But who's noticing that? Truth be told we cut both in half and shared equally so we could taste test each. Our final opinion? We would both go for the REGULAR roll and get 2 if you were that hungry- all because of the roll! But this roll is in one of our top 3 so far… It had a little mayo, no celery, a TINY bit of lettuce almost overlookable. Lots of claw meat it seemed- more "colorful" than others.
Ruth–
Pros: they have lobsters in the pound on site so meat is as fresh as you can get. Moist chunks of lobster.
Cons: for the jumbo roll to hold the meat of two lobsters, it had to be served on a brioche roll–tasty, but not as good as the toasted hot dog roll of the smaller roll.
RAW BAR (Mashpee, Popponesset):
252 Shore Dr, Mashpee, MA  fresh, chunky, lots of knuckle, not overly dressed.
We  decided to make this a supper meal rather than our usual noon time lobster rolls. Paula is the scheduler and she really wanted to get to The Raw Bar because so many of you have said such good things about their lobster rolls.
We got there at dusk on this chilly fall evening. The inside, by the bar, was full of men (not that we have a problem with that), who apparently play golf on Fridays and congregate at the Raw Bar afterwards. They were belly up to the bar three deep, so we prepared to sit outside, hoping not to shiver at the table in the enclosure, where a sign warns to keep the door shut so "animals won't come in." Hmmm…?
But along came the waitress/manager of BOB's SEAFOOD CAFÉ right next door—the inside version of raw bar (same management/same food) but a warmer indoor environment–minus all the men. She saw that we were pondering what we wanted to do, so she invited us next door.
Brenda's service was exceptional! She was friendly and chatty but knew when to let Paula and me chat alone. On her advice we split the HUGE 12-ounce lobster roll voted #1 in New England by Billy Costa (who?). We complemented the roll with wine and delicious creamy clam chowder.
The lobster was served with minimum mayo and no fillers on a large split roll (not the traditional hot dog roll and not toasted) necessary to hold the truly generous portion of lobster meat. It came with onion rings—the frozen kind I think (meh). Fairly pricey for one roll ($27 and change), but when you consider that it serves two the price was MORE than fair.
So the rating: the lobster was delicious and I can see why so many people love it. Fresh, chunky, lots of tender knuckle meat. If only there was a giant New England hot dog roll that could have been buttered and toasted, and would have held 12-ounces of lobster, this roll might have made the top three.
**THE REST OF THE CONTENDERS (that didn't make the honor roll)
SALT WATER CAFÉ (Newport)
HADDADS (Marshfield)
BRIDGEWAYE INN (Marshfield)
WATER CLUB (Marina Bay, Quincy)
WATERFRONT GRILLE (Plymouth)
SANDY'S (Long Beach, Plymouth)
JOCKEY CLUB (Raynham)
EMMA'S (Norton)
SCITUATE LOBSTER POUND (Crocetti's, East Bridgewater)
Comments
comments