The Studio Kitchen is a one-of-a-kind culinary entertainment destination that recently opened up at the Kingston Collection inside Bar Rustic.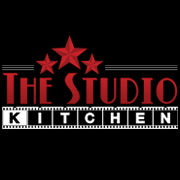 Guests step into a dream kitchen, television studio, restaurant, cooking school, wine cellar and more, all at once!
The venue serves as home to our Emmy® Award television series and acclaimed live shows, both hosted by celebrity chef, Liz Bramwell.
The Studio Kitchen offers a taste of both Hollywood and Rockefeller Center, yet in a comfortable and approachable setting.
We welcome anyone to come join us and experience the live dinner shows and classes inspired by our award-winning television program. Cozy up to the same counter as seen on TV and enjoy seasonal New England dishes that are treats for the whole body.
Ever wondered what it would be like to dine in a celebrity chef's real kitchen, have them handcraft your meal and be able to ask them any question? Here's your chance!
In addition to our live shows, The Studio Kitchen hosts intimate and
engaging culinary classes such as 'Wines of Italy,' 'Cheese 101,' and 'Perfect Pasta at Home.'
The Studio Kitchen is the dream venue for any gathering – whether a bachelorette party, family reunion or a business team building event, our state-of-the-art space can serve your needs.
Cafarelli Concepts, the family behind Rustic Kitchen Bistro & Bar and
Bar Rustic, look forward to welcoming you to our newest kitchen.
Here is a behind the scenes video of the Studio Kitchen from the Rustic Kitchen Boston
Live Dinner Shows are available on Friday evenings at 7pm
Chicken Roulade
Fridays in February & March
Join Chef Liz Bramwell in The Studio Kitchen as she prepares a Roasted Chicken Roulade stuffed with serrano, garlic, peppers and onions. It is served with a tomato confit and a grilled Idaho potato and pancetta jus.
Your mid course for the evening will be a zesty citrus and pomegranate salad with frisee and spiced cashews.
Your wine pairing for the evening will be Chef Bramwell's favorite wine, Kim Crawford. This Marlborough Sauvignon Blanc is an exuberant white wine brimming with juicy acidity and fruit sweetness, providing a balanced profile.
Wood Grilled Swordfish
Fridays in April & May
Join Chef Liz Bramwell in The Studio Kitchen for a Swordfish Grilling Show. Chef Liz will prepare a perfectly grilled Atlantic Swordfish with sun-dried tomato and basil butter accompanied by lemony caper crushed Yukon gold potatoes and sauteed spinach.
Your mid course for the evening will be crispy fried artichokes with a Meyer lemon and black peppercorn aioli.
The wine pairing will be the 2014 Singing Gruner Veltliner, an Austrian white wine inspired by the Lenz family's daughter, Sophia. This wine boasts a bouquet of apple, peach and citrus along with the typical veltliner spiciness.
​
Summer BBQ Beef Rib Fridays in June & July
Join Chef Liz Bramwell in The Studio Kitchen as she slow roasts a Cherry Cola Glazed BBQ Beef Rib served with Jalapeno Cheddar Hush Puppies and BBQ Baked Beans.
Your mid-course for the evening will be a light Cucumber and Tomato Salad with Rice Wine Vinaigrette and feta Cheese.
The wine pairing for the evening will be the Firesteed Pinot Noir from Oregon. This fruity yet dry red wine has aromas of roasted cherries and nut brittle with the tangy flavors of apple skin, cedar and tobacco.
The Studio Kitchen, located inside Bar Rustic, at 101 Kingston Collection Way, Kingston MA, 02364
Comments
comments