Whitman & Hanson Dollars for Scholars will be celebrating the 9th Annual "A Taste of Whitman and Hanson" on Thursday, March 3, at the VFW Post #697 in Whitman from
5:30 p.m. to 8:00 p.m.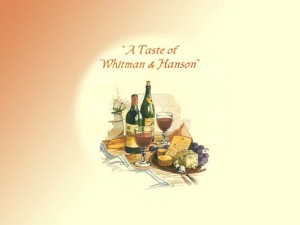 Up to two dozen local restaurants and food service providers will be offering samples from their menu to the general public.
Tickets are $15 each with limited capacity. Ticket sales begin on February 15th at Duval's Pharmacy, Ford's Insurance, Sandy's Coffee Corner and the Town Clerk's Offices in Whitman and Hanson. A list of participating restaurants will also be available at that time. All proceeds from the evening will benefit Dollars for Scholars in the form of scholarships at Awards Night.
Dollarsfor Scholars appreciates your continued support!! Dollars for Scholars is a local chapter of Scholarship America. Scholarship America was founded in 1959 by Dr. Irving A. Fradkin in Fall River, Massachusetts under the name Citizens' Scholarship Foundation. The Whitman and Hanson chapter was established in the fall of 1962 by residents who wished to assist graduating high school seniors further their education. Community volunteers raise scholarship funds for graduating Whitman and Hanson high school seniors. All students graduating from the public high schools or any private high school are encouraged to apply. Scholarships are awarded on a merit-based system
Get your Tickets soon as this event is usually a sell out!!
** all monies raised go directly to 2016 graduating seniors from Whitman & Hanson in the form of Scholarships.
Here is the list from previous years of restaurants
Mia Regazza Italian Restaurant  Abington
Costco
Jamie's 
Pinches & Pounds Candy shop
Christo's Restaurant
Trio's Cafe
McGuiggan'sIrish  Pub
Shaws
Old Hitching Post
Meadowbrook Family Restaurant Hanson
Mike's Pizza Hanson
Skinners Candy & Ice cream shop East Bridgewater
Edible Arrangements
I Pop Cakes
Joy of Baking
PizZings Pizza and Wings Abington
Whitman VFW
95 Essex St, Whitman, Massachusetts 02382
Comments
comments