Port 305 is a seafood restaurant and bar  located on the Marina Bay waterfront  that maintains a casual elegance for its diners. Being located near  Boston, this restaurant  has access to some of the freshest seafood around, and it definitely takes advantage of that.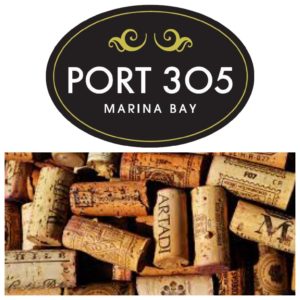 The interior of the restaurant is quite small, with the centrally located bar dominating the dining room. There are only a few booths scattered around the bartops, as well as a small deck outside where guests can gather when the weather permits.  There is a great function room as well.
The menu at Port 305 is very seafood heavy, but those that are in the mo od for something different have several things to enjoy as well.   Port 305 is a sister restaurant to Siros, an upscale Italian restaurant that is around the corner on the Marina Bay  boardwalk
Check out the  buzz
I sat at the bar with 2 friends and we had drinks and appetizers. Erin our bartender was great, fun to talk to, funny and very personable. The apps were very good and the Apple Sangria was amazing. Next time I go I will have dinner but based on what I did eat I'm sure it will be fabulous!

Great food, fun and knowledgeable staff and captivating views… a must go-to spot for a night or day out.

Wonderful atmosphere, wonderful seafood    wonderful service, wonderful view of the Marina bay waterfront. A great experience for our girls night out

Great. Food. And drinks. Really enjoy their  mussels.  I

Great place good food plenty of beers plenty of TVs there. Great views in the summertime. The employees are stellar.

first time out in Quincy after a client meeting and Port 305 was well known by the locals. There are a few bars in the area along the  Marina Bay docks.    Nice view, but we just missed the sun going behind the building which would have brightened up the outside deck a little. We sat outside anyway since the day was great. It was a beer and  app afternoon. The clams and Nachos were good. Pot stickers went pretty fast as did the wings. Reasonable prices and a good beer selection. I can't imagine there are too many places for the local businesses to head to after work so this place must get busy.

I recently attended a small function here. For a buffet, the food was superb. It was served fresh, tastefully and hot. It was displayed very nicely and the variety was fantastic. The staff was extremely friendly, continually helpful and always willing to go out of their way to get you anything . Great place for a small function.

Sat outside overlooking the marina on a gorgeous sunny day.The quality of the food was excellent.  I had the Turkey Club with Asparagus – fresh and flavorful  My boyfriend   had a burger with pub fries – perfectly cooked and tasty  This is a perfect spot on a sunny day – pricey, but well worth it for the view of Boston harbor.
Spring and Summer Kitchen Hours – Open 7 days for Lunch and Dinner
Sunday through Thursday 11 am – 10 pm
Friday and Saturday 11 am – 11 pm
Port 305, 305 Victory Road (Marina Bay), North Quincy, MA, 02171.