New Bedford Food Truck & Craft Beer Festival will be held on Saturday July 15th from 12-5pm at Fort Tabor.  Featuring some of New England's most popular food trucks, dishing out fan favorites, and dozens of regional and national craft breweries. We'll be bringing the ultimate food truck experience to the South Shore along with craft beer, live music, lawn games and more!
Foodies- Restaurant Survey Earn Amazon gift card and more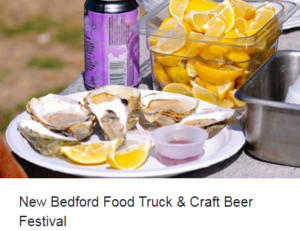 Food Truck Lineup*:
? Anzio's Pizza
? Alice's Simply Fesh Food Truck
? Baby's Bonetown BBQ
? Big Daddy's
? Cape Cod Cannolis
? Chez Rafiki
? Chuck Wagon
? Clydes Cupcakes
? Compliments Food Truck
? Frozen Hoagies
? GottaQ
? North East of the Border
? Open Season
? Ox Cart
? Red's Street Kitchen
? The Roving Lunchbox
? Shuck Food Truck
? Teddy's Lunch Box
? Teri-Yummy
? Tracy Girl
? Trolley Dogs
? Two Sisters
? Uncle E's
? Vovo's Kitchen
? The Whoo(pie) Wagon
? Wolf Pizza
? Zinnekins
Live Band: 7DayWeekend
Set time: 12pm-4pm
Stay Tuned for Craft Brewery Lineups!
TICKET PACKAGES:
GENERAL ADMISSION
Gets you into the festival where you can let your taste-buds try all the delicious eats!
$5 Online
$10 At the gate
BUY NOW and save 50%!
BEER LOVERS, REJOICE!
Gets you into the festival with 3 beer tickets so you can start sipping straight away!
$18.50 Online Only
Beer Tickets will be sold on-site as well for $6 per beer (12oz)
YOU CAN BE A V.I.P.
For those foodies out there who just can't wait to start snacking, we've got a ticket for you! There will be a special V.I.P. ticket which includes:
– Unlimited non-alcoholic Polar beverages & water
– One free dessert from our VIP Truck
– $1 off beer purchases, all day
– EARLY ENTRY! That's right, you get access to all the food trucks and craft beers during our VIP HOUR (11am-Noon).
– V.I.P. Tickets are limited so you won't have to deal with those pesky lines for a whole hour (think of how much you can eat!)
$20 Online
$30 At the gate