A new  Indian restaurant chain has  opened in South Weyouth called Bawarchi Biryanis  on Pond St  where the former FishTails kitchen was located.  They are the first location in Massachusetts.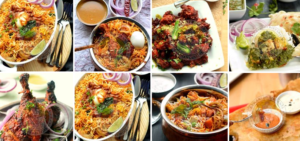 Bawarchi Indian Cuisine isn't just about food. It's about the generations of chefs who kept the cooking traditions alive and are behind the delicious dishes we serve in our establishment. Bawarchi means "the chef" as an homage to all the chefs that kept the traditions alive. We strive to tantalize our customers with versatile pan-Indian menu in a modern quick serve setting. We take great pride in delivering most authentic Indian dishes prepared with best ingredients. Our Passion for customer service and high quality food is behind our explosive growth into multiple locations in a short time. We thank all our customers for their trust in us to deliver great food everyday.
They plan having a daily
Here is some of the buzz from theirAugust 2017 soft opening, they are now opened of September 2017.
We attended a soft opening and this place is FANTASTIC! We've tried many places for Indian food that stands out and this place is a winner all around! Excellent customer service, the food was wonderful and the renovations to the building look elegant and trendy, I wish we could give more stars!! The samosas were tender and flavorful, the naan was perfectly seasoned, the chicken tikka masala was fresh and had the perfect amount of heat, everything was on point, this place is sure to be a hot spot! Congratulations!

Our first taste was a big hit! We got takeout (since the Patriots were on tv tonight) and when I picked up my order, I could tell from the enticing aromas in the restaurant it was going to be good. From the hefty samosas packed with savory veggies in a sturdy dough, to the creamy tikka masala, to the beautiful boneless chicken biryani, every dish was delicious. My husband especially liked the garlic naan with its generous blanket of garlic! We'll definitely be back – glad to have you in the neighborhood!

fiance and I had the pleasure of being at the Soft opening today for lunch. Every thing was great, staff was incredibly nice and always helpful (especially great to see on day 1 soft open). Food was so great: pricing, quantity, and quality were all worth it. We were stuffed. Definitely excited to make this a regular spot.
Also- WOW on the incredible interior renovation. The place is beautiful.

Awesome food coupled with great service. Glad to taste that they kept food items taste so authentic which reminded me of food days in India. Go for EXTRA SPICE on all their food items if you tooth for spicy taste. Strongly recommend this place. Keep it up Guys.
Bawarchi Biryanis Indian Cusine
532 Pond St
Weymouth, MA 02190