Taste of Pembroke & Beyond. will be on March 26, 2017 Noon– 2:30p at Pembroke High school.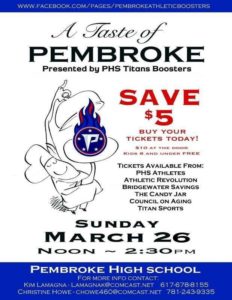 Food, Fun, Raffles, and Shopping to help support your local businesses and our athletes!
We are thrilled to have these restaurants participating this year:  Abbondanza, Alumni, Arrow, British Beer Company, Cast n Flagon, Dischs, Fedele's, Gunther Tooties & Mama Mia's just to name a few.  
You don't want to miss the new and exciting raffle items, face painting and children's activities. These are just a few things to look forward to at TOP this year! All monies raised at this event support all the athletes of Pembroke High School.
Come one, Come all, to The Taste of Pembroke at the PHS Gym$5.00 in advance $10.00 at the door.
Kids 6 and under free