Move over hot dogs. The Quarry Restaurant in Hingham has a kid's menu under $12 that may convince you to leave your house with your kids during meal time.On the menu are grilled fillet medallions, burger sliders, angel hair pasta, simple green salad, cheese agnolotti and chicken fingers. All dishes come with milk or juice, and a dish of Hornstra ice cream.  Adults will appreciate the small touches:  paper and crayons, wide doors that fit your stroller, a stroller closet, and a changing table in the bathroom.
Menu: http://www.quarryhingham.com/foodanddrink/menus/
IN SEASON – The menu is always adjusting to the region's harvest cycles. This month we have added beautiful, colorful and edible squash blossoms, sourced from local purveyors. They are stuffed with savory ricotta cheese and basil pesto, then lightly fried. This Italian small plate is simply delicious! ($12).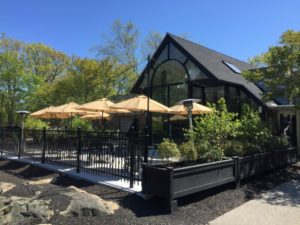 THE PATIO IS OPEN – One of Chef Greg's favorite patios was Hamersley's Bistro in Boston's South End where one could watch the world go by. The Quarry's patio offers its own casual scene with string lights, outdoor heaters and umbrellas for shade all overlooking the pond derived from the original quarry.
The Quarry is at 415 Whiting Street on Rt. 53. in Hingham, MA – one block from the Derby Street Shoppes.