The New Bedford Feast of the Blessed Sacrament, also known as . the Portuguese Feast is the largest event the city has every year. More than that, it is the largest Portuguese feast in the world and the largest ethnic festival in New England. The feast was founded in 1915 by four Madeiran immigrants who wanted to recreate the festivities of their home island. The feast is a four-day event, officially kicking off at 6:00 PM on Thursday, August 3rd . The grounds close at 12 midnight each night.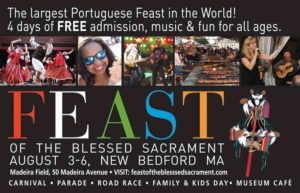 Located in the heart of New Bedford's north end, the Feast is a magnificent celebration of Portuguese/American culture featuring international and regional food and refreshments, live music and entertainment, carnival rides and the city's largest parade. Free admission all four days including admission to the Museum of Madeiran Heritage where visitors can experience the full story of Madeiran immigration to the United States.
\- With the 103rd Feast of the Blessed Sacrament just days away (August 3 to August 6, 2017), members of the of this years Feast committee will be setting up a "Mini Feast" at Customs House Square on Thursday night, July 13- starting at 6:00 PM. AHA! KIDS RULE – Free steamed hot dogs for kids under 12 will be provided! (while supplies last) Some of the most popular foods featured at the Feast will also be on sale for a very nominal price
COFFEE WITH FEAST PRESIDENT
Steve Duarte shares his sincere passion and his commitment to the Feast of the Blessed Sacrament. "Togetherness, love, heritage, tradition, and faith. Our parents gave this legacy to us. They instilled in us a deep faith and a great sense of ancestral pride" – by Joe Sousa Sr. (Museum of Madeiran Heritage)
OPENING DAY:
The Feast of the Blessed Sacrament commences Thursday with the assembly of the Festeiros (Feast Committee Members) at the intersection of Earle Street and Acushnet Avenue. Led by the Feast President, the Festeiros march in a special procession down Earle Street to Our Lady of Immaculate Conception Church which is located at the corner of Earle Street and Madeira Avenue. At the church, Father Daniel O. Reis celebrates a special Benediction to the Blessed Sacrament.
ENTERTAINMENT:
Continuous live entertainment on four stages featuring top name entertainment plus cabaret style music and Fado singers in the quiet atmosphere of the Courtyard Café at the Museum of Madeiran Heritage.
FOOD & DRINK:
Traditional Madeiran Portuguese dinner with numerous menu choices for full dinners in the main pavilion. Cook-you-own barbecue beef (carne d'espeto), sweet malassadas (fried dough)plus linguica (sausage) and baccalau (codfish) sandwiches. Hamburgers, hot dogs and French fries. Madeira wine imported in giant casks by special agreement with the Madeiran Government.
FAMILY FUN DAY:    Saturday
The Family Day program has grown over the years and this year is chock full of wonderful entertainment that will please the child in us all. Featuring both kid-themed activities such as face painting and more…