The Chefs' Table Series® took a road trip to    Quincy, MA to feature Iron Furnace, owned by husband and wife team Sharon and John O'Sullivan who have been in the restaurant industry for many years.  iron Furnace is part of the new Hancock District in Quincy Center. 
Executive chef JJ Lundrigan along with co-host Joe Murphy demonstrate how to make a Grilled Espresso Rubbed Ribeye. Samuel Hess discusses the wine pairing with co-host Carol O'Connor, a new wine called Wrongo Dongo.
Arugula & Endive Salad – Radishes, Almonds, Berries, Parmesan, Champagne Vinaigrette
Espresso Rubbed Ribeye served with Crispy Potatoes, Cippolini Onions, Wild Mushrooms, Baby Spinach, Brandy Peppercorn Cream
Boston Cream Pie
Make sure  you check out the Groupon at Iron Chef in Quincy 
The Chefs' Table Series®: Grilled Ribeye at The Iron Furnace
The Chefs Table Foundation is a 501(c)3 non-profit organization whose mission is dedicated to support homeless U.S. Veterans and underprivileged youths.
Make sure you keep up to date with your calendar as Future Chef Table Foundation live cooking demos will be added to the calendar.
Iron Furnace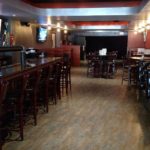 1495 Hancock Street
Quincy, MA 02169