The Greek Festival Brockton 2017, the Premier Greek Festival on the South Shore will be held on Thursday September 14th through Sunday September 17th at Annunciation Greek Orthodox Church, Brockton, MA. There will be delicious Greek dishes, live Greek music, traditional Greek dancing, and shopping in the Agora marketplace.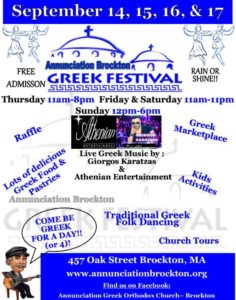 The Greek Festival will have all of your favorite foods including Baked Lamb, Lamb and Chicken Souvlaki, Pastitsio, Moussaka, Spanakopita, Dolmathes and Gyros along with hand-made pastries and Loukoumathes!
Foodies- Restaurant Survey Earn Amazon gift card and more
Children's Activities, Greek Shopping in our Marketplace, Church Tours, Live Greek Music, Greek Dancing Demonstrations and much more!
Thursday September 14 11am-8pm
Friday September 15: 11am-11pm
Saturday September 16: 11am-11pm
Sunday September 17: 12pm-6pm
Annunciation Greek Orthodox Church
457 Oak Street
Brockton, MA