Swamp Mob #9 will be held Surfside Smokehouse   in Plymouth on Sunday April 24th at 11am. Surfside Smokehouse is right on the water with some spectacular views and perfect for a Sunday brunch .   You must RSVP TO   Jim as there is limited capacity  508 927 4111.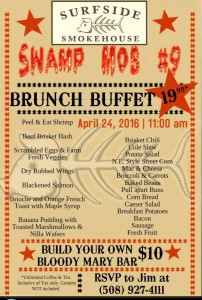 What is a Swamp Mob?
.A Swamp mob is a pre arranged dinner that Swampie mob the restaurant kind of like a cash mob. Swampie have been hitting local restaurants to share in good food and conversations.
Here is the menu 
Brunch Buffet $19.99
Peel & Eat Shrimph
Beef Brisket hash
Scrambled Egg & Farm fresh veggies
Dry rubbed wngs
Blackened Salmon
Brioche andOrange French Toast with Maple Syrup
Banana Pudding with Toasted Marshmallows & Nilla Wafters
Brisket chili
Cole Slaw
NE Style street corn
Mac & Cheese
Broccoli & Carrots
Baked beans
Pull apart buns
Corn bread
ceasar salad
breakfast potatos
bacon
saugage
fresh fruit
Build your own Bloody Mary Bar $10
Here is some of the Buzz on Hockomock Swamp Supper Club facebook group
Incredible beer verses spirits night at Surfside Smokehouse in Plymouth. Love this place! The food is amazing and Jimmy Agnew rocks!! We highly recommend this restaurant for dining and functions. So great!

We went to Surfside Smokehouse for lunch today – Good food and good service. 2 sliced briskets …1 with baked beans and one with mac and cheese. We enjoyed our meals and I came home with some left for later! I think I would have preferred the mac and cheese with a traditional toasted cracker crumb topping rather than the crushed goldfish (?) spooned on top. (Probably because the mac and cheese is prepared stovetop rather than baked?) But it was good. We expect to visit again before they close for the season.

Fantastic wine pairings dinner at Surfside Smokehouse. The smoke was very apparent in each dish, and each wine complimented the flavors so well! I had not tasted any of them before, and several were pairings I wouldn't have imagined. They plan to do this regularly on Mondays, and a Swamp Mob is planned. Very reasonably priced, don't miss it!

We went to Surfside Smokehouse on Oct 24. It was our first time there. I admit I was a bit unsure when we got there since the place was pretty quiet. Our server Meg was super nice. She was patient as we took our time looking over the menu. We ordered a couple signature cocktails which were delicious. Our appetizer was the kielbasa with pineapple. It was amazing. The perfect combination of smokey and sweet. I ordered the special. It was pork shank with a chorizo stuffing. Wow. I had no regrets ordering this. I've been dreaming about the stuffing ever since. My husband had the ribs. They we good but a tad on the fatty side. At the end of our meal the manager came over and chatted with us. We told him about Hockomock and my husbands hobby of BBQ. Next thing you know we were meeting the chef and seeing the smoker. All around a great experience. Can't wait to go back.
Surfside Smokehouse
14 Union St, Plymouth, MA 02360
Comments
comments
Food Events Swamp Mob
Map