Surfside Smokehouse in Plymouth  will be hosting   a 4 course dinner  on Monday November 23rd  where they  will be pairing both a cocktail and beer per course – then vote on the winner!   It is their  Cisco Brewers vs 888 Distillery Dinner FIGHT NIGHT!
Let the best libation win!!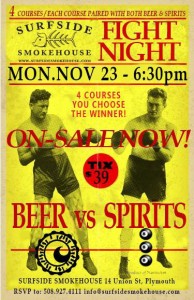 Price is $39.
Reservations are REQUIRED.
Please all us at (508) 927-4117 to reserve your spots!!
Surfside Smokehouse has been popular with the Lucky Number Swamp Mob plus they have had 2 recent dinners for wine and beer tastings.
Here is some of the recent buzz
I had an opportunity to sneak away for dinner, jsut the two of us. She grabbed a Living Social deal for Surfside Smokehouse. We had been once before and really enjoyed it so off we went. The restaurant was not very busy. Michelle remembered us from the last time and even recalled our drink order…so great! Jimmy stopped right over to chat and thinks many people don't realize they are still open. Not only are they still open, but they are hoping to stretch it to past Thanksgiving. And of course SM Lucky 7 will be there in a couple of weeks! We started with fresh oysters and I immediately felt virile and confident. Shelly ordered the brisket and pork bolognaise over thick pasta noodles. Smoky and rich with lean meats in a mild and flavorful tomato sauce. It's like a good-ole boy married my Nona. I had the restaurant week special, starting with a bowl of spicy chili topped with Fritos (forgot how good they were)..Chili was tasty, but not thick enough with meat and beans for my taste. Then I had the speclal 'selfie', chopped brisket, chicken drumstick, amazing slaw and mac n' cheese. Chicken was very dry, but everything else was tasty and the brisket was sublime. Jimmy and the team have done a remarkable job breathing new life into this location. Let's continue to turn the Seaside into the Swampside. Looking forward to barbeque on the deck next year!

Fantastic wine pairings dinner at Surfside Smokehouse. The smoke was very apparent in each dish, and each wine complimented the flavors so well! I had not tasted any of them before, and several were pairings I wouldn't have imagined. They plan to do this regularly on Mondays, and a Swamp Mob is planned. Very reasonably priced, don't miss it!
Surfside Smokehouse
14 Union St, Plymouth, Massachusetts 02360
Comments
comments