It the Christmas holiday season, and that means that South of Boston local restaurants are offering some great gift card bonuses and discounts in hopes that you will choose to eat at their restaurants. Here is the update list for 2017 Holiday season-we will continue to add as more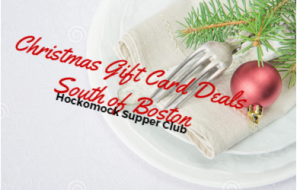 Buy  a $25 gift card and get a $5.00 bonus gift card.
Get a FREE $10 Appreciation Card* when you buy $50 in Gift Cards!
*Appreciation cards expire 90 days from date of issue. Valid on your next visit.
BLACK FRIDAY! We have a Black Friday deal for you! ~ Purchase an Alba/Zef Gift Card and we will increase the dollar amount by 20%. So if you purchase a gift card for $100.00 we will add $20.00 to that amount for a total of $120.00.
A Sun Tavern Gift Card makes the perfect holiday gift for everyone on your list.NOW through December 24th: Receive a  Free $20 Bonus Gift Card  with every $100 in gift cards purchased!
Stockholders Weymouth, Precient 10 Weymouth, Baypoint Quincy, 42 degrees Plymouth
Are you ready for it? Our annual Gift Card Sale kicks off on December 1st and runs through Christmas: $50 Gift Cards for only $40! $100 Gift Cards for only $80…and so on! A 20% savings to you on the spot! They never expire and can be used at all the Hynes Restaurant Group restaurants!
On Black Friday (11/24/2017), for every $30 gift card purchased at one of our six Mamma Mia's restaurants or online, you'll receive an additional $10 gift card!
Holiday Sale
From November 25th– December 24th at midnight, for every $30 gift card purchased at one of our six Mamma Mia's restaurants or online, receive an additional $5 gift card!
KKATIE'S GIFT CARDS ARE GOOD TO GO!  $30 GIFT CARD FOR $25 UNTIL XMAS
This holiday season, we have a gift for you. With the purchase of $100 in gift cards, you'll receive a $20 gift card from us. From Black Friday to the end of December, the offer is all yours.
It's Black Friday, which means we are kicking off our gift card promo! Spend $100 on gift cards and you'll receive a complimentary $25 gift card, from now until Christmas Eve.
Mia Regezza Abington and Marshfield
Save $5 for every $50 you purchase on a gift certificate. $50 for $45/ $90 for $100… Gift certificates must be purchased at either our Abington, or Marshfield locations. This deal does not apply for online gift certificate orders. Gift certificates can be redeemed after December 24, 2017.
Dinner deals at home
Omaha Steaks   Take the pressure off of meal planning with these stress-free meals that are ready when you are
Hello Fresh! Wholesome Cook-at-Home Meals
Comments
comments