Here are  local  South of Boston  restaurant deals and freebies on Veterans Day for Saturday November 11th 2017.   Please make sure you take your military id for the discount.   If we are missing any local restaurant (not chains)  please let us know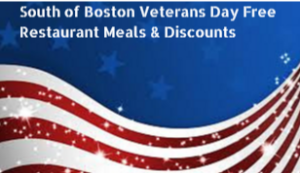 As our Thank You to all of the brave men and women who served or are currently serving in any part of the armed forces, we would like to offer you a free meal on Veteran's Day, Saturday, November 11, 2017.
With the month of October coming to a close, I wanted to send a quick reminder that Friendly's is treating veterans and active military, with a valid military ID or honorable discharge card, to a free Big-Two-Do® breakfast (choice of two slices of French toast, two buttermilk pancakes or two slices of toast; two strips of crispy bacon or two sausage links and two made-to-order farm fresh eggs), or All American Burger (fries and a beverage ) during lunch or dinner on Veteran's Day,
Enjoy your favorite Entree on November 11th  with valid military id
Cabbyshack, Veterans and Active Duty eat for free! Simply show us your military card and we will be happy to serve you in thanks of you serving us! God Bless America
Nellie Rose Restaurant Would like to offer any current or retired veteran a FREE Breakfast  Nov 11th… Please Come in to either location Whitman or Middleboro and Choose from one of five Breakfasts Free of Charge….
We are offering a free entrée for Veterans, at both locations!
On Veteran's Day, Saturday, November 11, 2017
Veterans must show a military ID. Dine-in only.
Johnny Macaroni's expresses our gratitude to the men and women who have served our country. We are the home of the free because of the brave.
Choose from these, our most popular entrées:
Veterans Day Complimentary Meal
You served us now let us serve you!
Valid for all veterans and active military with military id.
(not valid with any other offers or coupons)
With thanks to all the Veterans who served this Country…Have dinner with us, any entree up to $18.00 is free to any veteran with a Military ID good 11-11-17.
Dine in only…Cannot be used in conjunction with any other offers.
It has been a Persy's Place tradition for over a decade to honor Veteran and Active military members with a complimentary meal from our menu on Veterans Day and Memorial Day. Please tell a friend, or better bring one to Persy's Place to help us give them the honor they so deserve. Must have proper miltary ID, limited to one meal per member on Veterans Day only. Includes a drink.
With Veterans Day approaching Mia Regazza would like to thank all that have served and are currently serving. On Saturday November 11th Veterans Day please come in for a complimentary entree until 2 p.m.
Again Thank You for your service and God Bless.
This Friday (11/10) and Saturday (11/11), we'd like to honor the men and women who have served or are currently in the United States armed forces by offering 50% off at any of our restaurants.
Valid Military ID is required. Not valid with any other promotions, and excludes alcohol.
Chain Restaurants
On Saturday, November 11, from 11am to 2pm, veterans and active military members can receive a free $5 HOT-N-READY® Lunch Combo.
Margaritas is offering complimentary entrees to all veterans and active members of the military, as well as their significant others this Veterans Day.
On 11/11 from 11am – 4pm,  Veterans and active military can receive a free lunch from our 9 Real Size Entrées for $9.99 Menu with the purchase of any entrée.
All active, retired military and veterans get a free Bloomin' Onion® and a beverage on Veterans Day. Must have valid identification
On Saturday November 11th, select from a free special veterans lunch menu including a beverage and sides.
Guests who show valid military ID can enjoy a free lunch menu item up to $12. This offer is valid on Saturday, November 11th, from 11 a.m. to 2 p.m. local time.
Comments
comments