If you're finding it hard to stay under budget because of the high cost of eating out on the South Shore take advantage of these dinning deals  that can help you score a great deal on that next meal out.  Make sure you also check out the daily dinner specials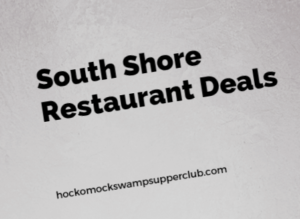 Abington
Japanese and Chinese Fusion at Omoto Garden   Additional 20% off ends 4/28 use code family 
Omoto Garden brings a bit of international flair to Abington with its spread of Japanese and Chinese fusion cuisine. In addition to sashimi, sushi rolls, and noodle dishes, chefs craft a number of house specials. They combine shrimp and scallops in a spicy brown sauce to create an entree dubbed the Imperial Couple, and they deep-fry slices of tender steak to create a crispy beef dish. On Thursday, Friday, and Saturday evenings, Omoto surrounds these feasts with a karaoke chorus, as patrons belt out popular songs and sign autographs for their invisible fans.
Two Hours of Billiards for Four People with Optional Pizza and Chicken Tenders at Stix & Stones   Additional 20% off ends 4/28 use code family 
At Stix & Stones, pool tables take center stage—you can show off your billiard skills during the 8-ball and 9-ball tournaments that take place every Sunday at this Abington bar. But the food is a nice side dish to the competition, as the kitchen cooks juicy burgers, crispy french fries, meatball subs, and more. After sinking the eight ball, players can refuel with a cold pint of beer or a glass of wine while watching sports or Extreme Knitting on TV.
Bridgewater
Enjoy Daily Lunch and Dinner Specials, or just relax and have a drink or a smoke on our outdoor deck. Excuse our appearance as we expand our brewhouse to bring even more enjoyment to your experience!
Braintree
Seoul Kitchen Korean BBQ (Up to 39% Off) Additional 20% off ends 4/28 use code family 
grills filled with skirt steak, short rib, and other meaty favorites conjure tasty images of Korea's capital city. These interactive feasts pair well with savory sides of dumplings and kimchee, as well as inventive tropical drinks from the restaurant's festive bar.
$27 for $40 Worth of Italian Dinner for Two at Campanale's Restaurant    Additional 20% off ends 4/28 use code family 
If its name doesn't tip them off, visitors to Campanale's Restaurant need only glance at the menu to realize this place is Italian to its core. More than 10 specialty pizzas take up but a small slice of real estate on the menu and include the chicken fradiavlo loaded with hot cherry peppers and onions. The rest of the menu features familiar Italian favorites, including marsala and parmigiana, alongside dishes that are a bit harder to come by such as grilled swordfish and sirloin pizziola–a 16-ounce sirloin topped with mozzarella and spicy marinara sauce. For added convenience, Campanale's also has a gluten-free spread packed with many of its regular dishes.
Brockton
$10 for $20 Worth of Deli Counter Food at Lambert's Deli  Additional 20% off ends 4/28 use code family 
For more than 30 years, Lambert's Deli has been serving the patrons of Brockton. Known for the best salad bar in Southeastern Mass as well as their home made sandwiches, Lambert's deli is a town staple. Their on-site garden center also offers flowers and plants to fill homes with cheerful blossoms and life-sustaining oxygen.
Canton
Chinese Food, Japanese Food, and Hibachi at Gourmet Garden (Up to 40% Off) Additional 20% off ends 4/28 use code family 
When people think of Chinese food, they likely think of scrumptious, but heavy noodle and rice dishes loaded with dense sauces. Luckily, at Gourmet Garden, lovers of Chinese and Japanese food can dig into a menu full of organic meats and vegetables, low-carb and gluten-free options, and light, healthy rice dishes.
East Bridgewater
Sushi and Japanese Food for Two or More or Four or More at Tatami Sushi Restaurant (Up to 45% Off)  Additional 20% off ends 4/28 use code family 
At Tatami Sushi Restaurant, cooked and uncooked maki stand out on a menu that also includes thin sushi rolls, teriyaki eats, and noodles and rice. Those who love traditional uncooked maki might opt for spicy crispy tuna, whereas those who prefer cooked maki can try the East Bridgewater, a deep-fried medley of cooked salmon, crab stick, shrimp, and tobiko. Some rolls mix cooked and uncooked elements, including the Red Sox roll, which pairs deep-fried seaweed with fresh salmon and tuna.
Foxboro
American Steakhouse Cuisine for Dinner or Lunch at Lafayette House  Additional 20% off ends 4/28 use code family 
Many restaurants are here today, gone tomorrow. Fortunately, the Lafayette House, founded in 1784, continues its well-earned tradition of fine dining  and service. Our continental cuisine, coupled with our impeccable  taste in service and decor makes us the seasoned spot
for any dining occasion.
Hanover
We love our food and we are sure you will as well. Grab your friends and family and come have a meal with us.
Hingham
$15 for $30 Worth of Asian Fusion Cuisine at Gourmet Garden Restaurant   Additional 20% off ends 4/28 use code family 
As the chefs at Gourmet Garden Restaurant prepare a sweeping variety of Asian fusion dishes, they do so with an eye toward nutrition. When they crack open the pantry, they reach for whole, natural ingredients rather than MSG or trans fats. For instance, chefs complete sushi rolls with sugar-free akai rice that contains 56 times the fiber content of regular rice or standard tissue boxes. They also accommodate dietary restrictions by eliminating gluten, oil, and sauces from select dishes.
Holbrook 
Leggos Breakfast & Lunch restaurant coupon
We serve breakfast ALL DAY! Come find out why our crepes and burritos are favorites in the area. Check out our daily and weekly specials on our Facebook page. And, don't miss our homemade meals.
Hull
Dinner at Rinato Bistro (Up to 44% Off).   Extra 20% off use promo 20NOW ends  4/8 
Before you visit Rinato Bistro, you have to ask yourself: casual or formal? The bistro's downstairs dining room and bar area are a perfect fit for the former, while upstairs, quieter, upscale meals unfold amid views of the Atlantic Ocean. Either way, the bistro's menu treats taste buds to classic Italian food—here's what to expect when you stop by:
Kingston
Wayback Burgers is about serving delicious and fresh, handmade burgers and hand dipped milkshakes amidst an atmosphere that hearkens back to a simpler place and time a time when customer service meant something, and everyone felt the warmth of the community.
Plymouth
Two Large One-Topping Pizzas with a 2-Liter of Soda at Plymouth House of Pizza (19% Off)   Additional 20% off ends 4/28 use code family 
Plymouth House of Pizza's pizza menu starts out pretty ordinarily, featuring classic standbys such as build-your-own meat pies and herb-and-veggie-topped pizzas. But as you continue downward, you'll start to see the options become a little less conventional. Take the shrimp marinara, for instance, which crowns its fresh mozzarella with shrimp, tomatoes, greek olives, and thyme, or the brasileira pie that combines ham and heart of palms
$10 Value Towards Deli Fare or Sandwich Meal for Two at Stowell's Cafe & Deli   Additional 20% off ends 4/28 use code family 
Stowell's Café & Deli is a family owned business that offers a variety of unique sandwiches and delicious entrées to the surrounding Manomet area and beyond.
Upscale Dinner Cuisine for Two or Four at The Office Bistro (Up to 49% Off)  Additional 20% off ends 4/28 use code family 
These days, the old wooden bones of the building provide a distant reminder of what once was; the cozy, rustic interior fills with the smells of international cuisine and the sounds of a bartender shaking a cocktail or uncorking a bottle of wine. From the kitchen, chefs send out flatbread pizzas and tapas such as homemade ravioli, gorgonzola-stuffed dates, and white truffle oil macaroni and cheese. For those with an even larger appetite, entrees include aromatic, Italian-style meatballs in a rich red sauce, bourbon-braised short ribs crowned with a carrot-cumin slaw shaped like a tiara, and a seafood medley of shrimp, lobster, and scallops over fresh pasta.
$25 Value or $35 Value at Towne Line Tavern (Up to 40% Off)    Additional 20% off ends 4/28 use code family 
Instead of smoke-yellowed walls and dingy lighting, in Towne Line Tavern there's vibrant colors, wall-size murals, and fun, retro-mod lamps hanging above the tables. And the menu is just as dynamic as the newly renovated space, featuring classic American staples for breakfast, lunch, and dinner alongside out-of-the-box pub offerings such as chicken teriyaki and chicken fra diavolo.
Brazilian Steak-House Cuisine at Rio's Steak House (Up to 47% Off)   Additional 20% off ends 4/28 use code family 
Diners can load up their plates with cold and hot sides from the buffet table. Then, they choose their drink from a full menu of juices. After they're seated, waiters come around with different styles of meat on skewers and shave off unlimited portions of bacon-wrapped steak, lamb, chicken sausage, and fruity slices of grilled cinnamon-sugar pineapple directly onto plates. See the full menu
Quincy
Maggy's Lounge $25 to Spend on Food and Non Alcoholic Beverages 
• $14.99 ($25.00 value) for $25 to Spend on Food and Non Alcoholic Beverages
$15 for American Food and Pizza at Super Chef Pizza  Additional 20% off ends 4/28 use code family 
Super Chef Pizza blends two beloved American institutions—the greasy spoon diner and the Italian pizzeria—into one genre-bending restaurant. The gourmet pizzas take diners on a gustatory tour of everything from classic Meat Lover pizzas—loaded with bacon, pepperoni, hamburger, and sausage—to southern-inspired barbecue chicken pies. They even pay homage to the Old World with options like the Florentine, an elegantly simple blend of spinach, ricotta, and tomatoes.
5 to Spend on Dinner (Valid Monday to Thursday)
• $10.00 ($15.00 value) for B. $15 to Spend on Lunch (Valid Monday to Friday)
Pub Grub at Iron Furnace (50% Off). 3/31 only use HAPPY FOR EXTRA 20% OFF 
32 HD TVs, live music events, and hearty pub food fuel the fun, casual environment at Iron Furnace. Patrons can settle into a shiny black booth or grab a seat at the bar to enjoy everything from macaroni and cheese served in a sizzling cast iron skillet to a burger piled high with jalapeño bacon, Red Dragon cheddar, and caramelized onions. Depending on the day, comedy shows, karaoke, or team trivia nights keep guests entertained between bites, but they can always count on catching the big game. Make sure you check out the  Live Chef Table Demo filmed here recently  
Pub Food for Two or Four or More at Kelly's Cellar  Additional 20% off ends 4/28 use code family 
Kelly's Cellar, located just steps from the Quincy Center station, provides visitors with a taste of the Irish life. In addition to its 20 TVs, the restaurant entertains imbibers with attractions every night of the week, including trivia and live Irish music.
Taunton Dining Deals
Breakfast Cuisine for Two or Four at DeAvila's Restaurant & Catering (Up to 38% Off)    Additional 20% off ends 4/28 use code family 
DeAvila's crafts breakfasts with glamor. An Old Hollywood theme pervades the menu, which starts off mornings with red-carpet-worthy skillets, pancakes, and benedicts. Even the most classic dishes are subject to inventive reboots: homemade corned beef hash as well as a homemade Linguica hash, while omelets are filled with feta and grape tomatoes. Classic recipes are the specialty, though, for which brunch seekers are grateful.
Weymouth Dining Deals
Chinese Food at Cathay Center (Up to 38% Off).  Additional 20% off ends 4/28 use code family 
There always seems to be something going on at Cathay Center. Some nights, guests are belting out karaoke songs, and other nights, they're racking up high scores on Wii video games. The main reason people flock to this popular local hangout, though, is the Chinese food. The menu is as long as it is diverse, and it even features an array of lighter options.
Asian Cuisine for Two or Four at Golden Dragon (43% Off)  Additional 20% off ends 4/28 use code family 
Golden Dragon introduces its guests to no shortage of options. The South Weymouth establishment's food selection features nearly 20 categories—making the menu read like a who's who of Chinese cuisine. There's the health-food section, which boasts a variety of steamed dishes, and the house specials section, which simmers with spicy creations. The house-special Dragon and Phoenix fuses two dishes into one with sizzling chunks of shrimp and chicken. The menu also includes entrees designed to share. The Pu Pu platter, for instance, lets diners sample seven distinct foods before taking leftovers
Whitman
$30 for Two Pints, Two Take-Home Pint Glasses and Crowlers at Old Colony Brewing ($41 Value)  Additional 20% off ends 4/28 use code family 
Brewing at home is fun, but beer is meant to be enjoyed by all. That's why, after years of crafting their own brews, the brain-and-barley trust behind Old Colony Brewing branched out to open their own small craft brewery. There, they create year-round varietals such as orange pale ale, brown all, and Hoppy Patriot IPA, as well as seasonal options such as pumpkin ale and Irish red. Within the small tasting room, visitors can enjoy the beer in all sizes, including flights, pints, and growlers.
Comments
comments