Shaking Crab Seafood restaurant has opened up the Hancock District  Quincy Center  April 2017 .  It   features Cajun-style seafood, serving up mussels, lobster, shrimp, and more, shaken up with a spice blend in a bag — and served in that bag. Also on the menu: fries, onion rings, wings, fried oysters, mac and cheese, mochi, and a few other items.    Shaking Crab  also has a location in Newton MA.
How to order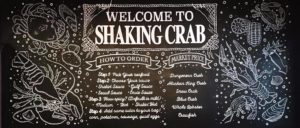 Step 1 Pick your seafood
Step 2 Choose your sauce -Shakin,Gulf, Seoul
Step 3 How spicy?
Step 4 Add your sides
Here are some of their reviews of food in both Quincy and Newton
I got the blue crab with a side of potatoes and it doesn't come on a plate; it comes in a bag that they shake with all the spices and stuff mixed in. It's messy food and it's absolutely delicious. I got mine spicy but they have non spicy options as well. Keep in mind: they do provide bibs, wet napkins, a plastic bag to dump all the shells in, and gloves. Your hands and clothes will stay clean. Stay open to the experience, your face will get messy, but the food is really really good. Or at least, I enjoyed it. And I thought the servers were very nice and attentive. Can't wait for the official opening of this place. It's a wonderful addition to the Quincy food scene. Highly recommend giving this place a try

My recent trip to Shaking Crab was quite wonderful! The food was delightful in both taste and fun. The variety of sauces captured my taste buds while the plentiful bags of seafood filled my stomach. In addition, the set up of the restaurant makes for an inviting environment into the Shaking Crab experience. This was awesome, and I don't even like seafood!

Soeul seasoning is the Best flavor for seafood shakin' in a bag. My favorites are the crawfish, littlenecks, mussels, fried oysters, and garlic noodles, but definitely don't forget to add in the corn and sausages into the seafood mix. I've worked in the restaurant industry for over 10 years and this place hires the best servers to take care of you all night! They are friendly, great at what they do, modern/stylish and happy to serve. No negative vibe from anyone of them. Haven't once had any bad service every time I stop in. I do have one recommendation for the place. They should label the bags with the flavor and spiciness so when there's a large party, customers would know which is which because some of the sauces look the same. All in all 5 out of 5!

get the blue crab with the Seoul chili sauce. And the crawfish with the same sauce. It is so good. They are also children friendly. Everyone that I have brought loves it and are returning customers. The best time to go is early Saturday and Sunday before 3. And during the middle of the week. On the weekends I do take out. But I love it. And they remember my face everytime I come here. Can't wait until they open the new one. Plus there service is great. They move fast and always check on you I don't care how busy it is.
HOURS:
Monday 5:00 PM – 11:00 PM
Tuesday 5:00 PM – 11:00 PM
Wednesday 5:00 PM – 11:00 PM
Thursday 5:00 PM – 11:00 PM
Friday 5:00 PM – 11:00 PM
Saturday 12:00 PM – 11:00 PM
Sunday 12:00 PM – 10:00 PM
Shaking Crab – Quincy
18 Cottage Ave
Quincy, MA 02169
Phone: (617) 481-1353
Comments
comments