Plymouth 400 will be hosting a Food Truck POP-UP on Friday July 14th 6 to 9pm.
This one is being held inside the Cordage Park Marina as a part of the Bass & Blue Tournament weekend. Buying a ticket to this unique event will get you access to multiple Food Trucks so you have a unique and large selection of choices from a variety of cuisines.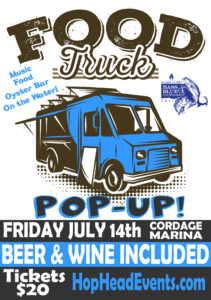 Your ticket includes UNLIMITED tastings in our BEER & Foodies- Restaurant Survey Earn Amazon gift card and more  WINE GARDEN. There will also be a Professional DJ spinning current and classic tunes.
OH YEAH! there will also be an Oyster Bar Courtesy of Plymouth Rock Oysters!
Buying a ticket to this event also helps support the Plymouth 400 organization, more information on their mission can be found on their site www.plymouth400inc.org
Beer and Wine Garden List:
Mayflower Brewing Company
Castle Island Brewing
Independent Fermentations
Otter Creek Brewing
Long Trail Brewing
Cape Cod Beer
Plymouth Bay Winery
Variety Selection from Pioppis Package Store
Tickets are $20
Cordage Marina
Cordage Park Circle
Plymouth, MA 02360
Comments
comments