SWAMP MOB  #8  will be Lincoln's Birthday Breakfast Bash   at New Restaurant Nellie Rose in  Whitman on  Tuesday Morning February 16th at 9:30am Order anything you like from the menu.  Pay your own tab.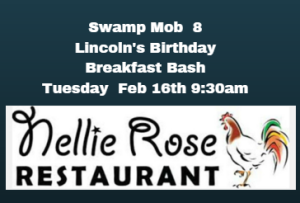 Remember:
Swampies tip well.
Please RSVP by
Private Message
by February 12th
to our member  Anne-Marie who
graciously set up this event.
What is a Swamp Mob?
.A Swamp mob is a pre arranged dinner that Swampie mob the restaurant kind of like a cash mob. Swampie have been hitting local restaurants to share in good food and conversations. Calories never count at a Swamp Mob and who starts their New year diet before the first Monday of January.
 Here is some of the Buzz on Hockomock Swamp Supper Club facebook group
"Maaaaaan…Not over cooked, not undercooked, if I lived here I would eat here at least three times a week". Quote from my very picky friend about his omelet from Nellie Rose.
Fantastic breakfast! Irish eggs Benedict, blueberry muffin, Nellies Favorite, corned beef hash, home fries, hash browns…ALL were excellent!
Thanks for showing my mid-west friend how we do breakfast in New England.

So finally made it to Nellie Rose's. Parking lot was full but plenty of tables. I ordered corn beef hash as I heard how good it was, it was delicious. not too salty at all, perfect! My daughter ordered eggs Benedict with fried potatoes, huge portions, potatoes not greasy at all. Waitress name Jackie was very friendly, helpful, told us about the swamp mob coming. The owner Scott came over and said hi. very nice. Will definitely be going back, loved it!

Feeling full!!! Busy morning today! Happened to be riding right by Nellie Rose! I wanted to stop so glad we did! Service good! Enjoyed the little dish of pastries while we waited for breakfast! Breakfast was great I just got the 2 egg?? breakfast the bacon was yummy ! My hubby got the steak and eggs!!! Big portions! Prices are average! Would recommend and we will be back!!!

Went to Nellie Rose this morning. I started with a pistachio muffin.it was good. I got the Phili steak n cheese omelette w peppers and onions. It was huge! Homefries on the side and I could get toast or corn bread. Of course I went with corn bread. My son got the chocolate chip pancakes. They were enormous as he said. My friend got the Rte 18 breakfast sandwich with fried bologna. She said it was good. She also got a special which was a waffle with peanut butter and bananas which she also said was good.. The food was amazing. The service was ok. My food came out after the pancakes and breakfast sandwich. Then the waffle came out after my omelette..they said they ran out of waffle mix and had to make it.
Nellie Rose Restaurant.
557 Bedford Street
Whitman MA 02382
Comments
comments