From the Alumni cast of Medieval Manor, please welcome Mayflower Mayhem coming to Hotel 1620 at Plymouth Harbor in Plymouth  Thurday  November . 17th and  Friday November 18th!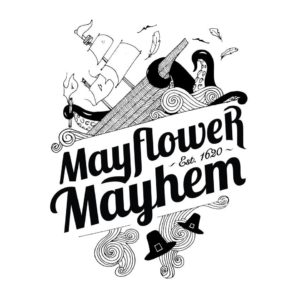 Mayflower Mayhem is a comedic show which follows the "mis-adventures" of some fictitious, not-so Puritan Pilgrims in their wild and unpredictable journey across the Atlantic to the 'New World'. The dinner show, complete with a Thanksgiving feast, features a "Captain" and his merry band of cohorts, while providing comedy, music, improv, and audience participation. Although not affiliated with Medieval Manor, Mayflower Mayhem's cast consists entirely of alumni who became inspired to create a new dinner theater production of their own.
Captain's   Quarters
Interested in court side seats as close to the action as possible? Consider the Captain's Quarters for your party. Seats are priced at $65.00 (+tax) each and can be sat in parties up to 8. Ticket price includes approx. 2 hour show and four course meal.
Captain's Quarters seats also put you right in the sight line for audience participation bits and are recommended if you want your party guests to be "on deck" for crazy stage antics.
General Admission
General amission is $56.00 (+tax) each and can be booked in parties of any size. Ticket price includes approx. 2 hour show and four course meal. Buy tickets online 
Comments
comments