KKatie's Burger Bar Quincy has opened in Quincy December 2016.  You may  have been to one of its sister locations  in either Plymouth , Marshfield on the South  Shore and their Cape restaurant in Hyannis which opened earlier in 2016.    KKatie's Burgers are made fresh daily. Pressed by hand. Always fresh. Never frozen.   They  use only the freshest ingredients, sourced locally when possible The Quincy location   will have the classic lineup of burgers, including the Big KKMac, which comes topped with cheddar jack cheese, select burger fixings, and their own  special sauce. There are also sandwiches, appetizers, and sides, plus beer, wine, and liquor. KKatie's will have outdoor seating during the warmer  months.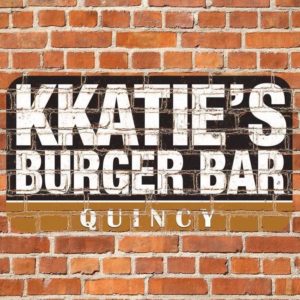 It is a part of the new Hancock district which includes some new restaurant and a number of established ones
Here is some of the Swampie buzz on its other locations
Finally made it to Kkatie's Burger Bar in Plymouth, and was pleased to find that it lived up to the hype. I was surprised to find the place packed at 7:45 on a Tuesday in the "off season". Burgers took about 40 minutes, but it was well worth the wait. Hubby and I both ordered the peppercorn, horseradish burger with caramelized onions – delicious! I asked for medium rare, but my burger was cooked medium, it didn't matter it was so juicy anyway. The waitstaff are very friendly and welcoming, feels like being at Cheers. We will definitely go back to try some of the other burgers.

I spent the weekend in Hyannis. On Saturday, I tried Kkatie's Burger Bar for the first time. It is on Main Street in Hyannis. It is a casual and small place. It is a cool atmosphere. I had the turkey burger with lettuce and tomato. It was very good. The side option was the sweet potato fries. The fries were not good. The menu consisted of appetizers, burgers, and sandwiches. They offer a variety of burger creations. I will definitely be back to try some more. The other locations are Plymouth, Marshfield, and Quincy. The bartender was friendly. We were talking with him. He use to bartend at a few restaurants in Plymouth. Overall it was a good experience.

Marshfield  location  :Me and my wife went to a restaurant with great reviews. I had the Double Decker Burger with Tater Tots, instead of hamburger buns it was with 2 grilled cheese sandwiches…so good, and my wife had the Blue Burger with Truffle Fries blue cheese stuffed inside and caramelized onions, and blue cheese dressing…yum, the food was good, our waitress was great. Sorry I forgot to take a picture of her burger. We will definitely be going back there soon. There also opening one in Quincy too, I can't wait for it to open.

Marshfield location : I broke a long burger fast at KKatie's Burger Bar in Marshfield last Friday for lunch and was very pleasantly surprised. We started with a basket of deep fried pickles and banana peppers, both with a light crunchy coating. They worked dipped in either the provided ranch dressing or ketchup. The french fries that came with the burgers later appeared handcut. Everything from the fryer was superhot and fresh from the kitchen.

I'm pretty sure the patty was fried on a flattop, not broiled or grilled, but I didn't confirm. I feel this is the best way to go when you order well done, because the patty was piping hot and moist. Reminded me of the great burgers at Mr. Bartley's in Cambridge. It was also huge: 8 ounces is stated on the menu and, honestly, I started to slow down after 6. The "Hell" burger had fresh jalapenos, NOT pickled, which makes a huge difference. I also noticed that the menu is careful to note when a burger has blue cheese vs. blue cheese DRESSING, which makes all the difference — I'm going to give that a try next time. One of the "extras" you can put on your order is a fried egg. Service was quick. Decor and ambience is "friendly tavern." Much of the seating is bar stools. The beer was served in a Mason jar.  I had a great meal and will be returning. I like this place a lot because they are paying great attention to doing one or two things very well.

I live only a few short blocks from this great restaurant and am ashamed I had only once grabbed a burger take-out from here last year! Kkatie's Burger Bar, Plymouth, MA, was my destination for dinner this evening with my dear friend Jourdyn. This very popular downtown Plymouth eatery, 38 Main Street, was jam packed to capacity. Even with the crowd we were seated in less than 10 minutes. We had ordered drinks at the bar, and our waiter Luke (excellent waitperson with the best ever Irish brogue) brought our drinks to our table. I opted for a light and refreshing Stella Artois beer, which I ordered 2 more of during my meal, while my friend had a Long Island Iced Tea. Luke suggested my beer and it was perfect. We started with probably the biggest platter of nachos I've ever seen, topped with a scrumptious chili add-on, lots of cheese and other typical nacho toppings, accompanied by plenty of salsa, sour cream and guacamole. We barely made a dent in it, and asked our waiter to split it for us and box it in separate boxes. My burger of choice was their famous Black & Blue burger, which was cooked to perfection. It's an Angus burger seared in Cajun spices with cheddar Jack cheeses melted inside, topped with creamy blue cheese dressing, lettuce, tomatoes and apple smoked bacon. I chose their curly fries. They were superb. Of course I boxed half of this meal. Jourdyn opted for a traditional bacon cheeseburger, with the usual toppings, which was huge, and their awesome house fries. Even their pickles were perfection! We chose to pay extra for the chili on our nachos, an extremely generous portion at a $3.99 up charge. The curly fries were $1.29 extra over regular fries, but well worth their awesomeness. Our check was only $56.71. Service was wonderful and we gave our waiter Luke $20. All in all a perfect night out. Walking the few blocks back to my home we gazed out over Brewster Gardens and caught a lovely glimpse of our beautiful Plymouth harbor! I highly recommend this restaurant!!!
KKatie's Burger Bar
1440 Hancock Street
Quincy, Massachusetts
Comments
comments