Swamp Mob #6  was held on Monday October 26th at Johnny Macaroni's West Bridgewater
I think the most successful one yet. Johnny Macaroni's rocks.  The food was excellent and plentiful.  Filled to capacity.   Some came as an Italian. I came as the Pontiff.  Paula s cake was spectacular.  Thank you to everyone who attended.  Thank you to the wonderful people
of Johnny Macaroni's.   The servers, cooks, chefs.

Check out all the pictures on the facebook group here -please tag yourself
Here is some of the buzz from the Swamp mob
Out first swamp mob, definitely looking forward to the next one. Fun time, great people, yummy food.  all good things.my mom was thrilled to see the pope, we felt blessed.

Really fun night! Laughed a lot, great company, great food and impressed that the owner walked around and greeted everyone! And…… Pope Rick brought it!!! ( & amazing cake!) Thank you so much to all who worked so hard to make a great evening for so many!!
and even the servers had fun
You are so welcome Rick. We had a good time too even if we were working it. It was great to meet everybody and maybe someday will get to attend one. I think Johnny Mac himself had a good time socializing with your group. Thanks for choosing us to host.
Pope Rick! (Aka head swampie)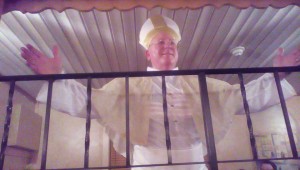 Make sure you stop by Johnny's Macaroni  Both locations are in West Bridgewater
LOCATIONS
582 West St, (508) 378-9335
1300 Plymouth Street, (508) 456-4460
PS Remember to sign yourself up for Swamp Mob 7 at the SurfSide Smokehouse in Plymouth 
Comments
comments