The Cabby Shack in Plymouth will be hosting a Tasting Dinner on Thursday November 12th at 6:30pm.  Come meet the new chef Rob Bono and indulge in 9 of his new fall creations including dessert.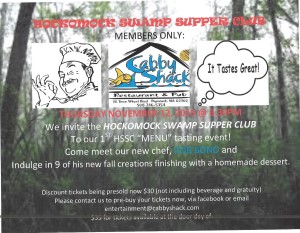 Discount prepaid tickets are $30 (not including drinks or gratuity)   via their facebook page or email entertainment@cabbyshack.com or pay at the door $35
Check out what the buzz on Cabby Shack is (some great and not so positive but Swampies tell it like it is)
Went to Cabby Shack in Plymouth yesterday. Hubby and I both got a cup of clam chowder, I had the lobster roll, and he had the Cape Cod reuben. Chowda was thick, but delicious, with quite a few big chunks of clam (bonus for me!). Lobster roll had a decent amount of mayo, though not too much. Cape Cod Reuben was huge. Pleasant and prompt service (I know that has been a complaint in the past). All in all a good experience.

Went to The Cabby Shack tonight in Plymouth… Waited 15 min for a drink at the bar while we waited 45 minutes for a seat we ended up just sitting at the bar. Asked one bartender for a drink to which she replied "I'm trying to get out of here", maybe she felt bad for us cuz she grabbed the drinks. Then got our menus…waited…asked the bartender if we could order, right after the couple next to us ordered their food, to which she responded "wow the kitchen is going to love me tonight" sarcastically with no eye contact at all…waited… Never got my chowder, got my small Caesar salad and hubby got the fish and chips. The fish was not cooked so we got the bartenders attention and she agreed and asked him if he would like something else he said no, she grabbed a manager and while she was taking the fish and chips off the bill I reminded her about the chowder so she could remove it at the same time. She came back over and told us she "took care of" the fish and chips and the chowder for us. Thanks for taking care of the soup I never got. Long story short I think the bartenders have an attitude like they're doing you a favor because maybe they have A little chip on their shoulder because of their location and the outdoor seating. I was not impressed. Very unfriendly

Cabby Shack tonight…haven't been since last summer. Sat on the lower patio outside, right next to the entertainment (The Honey Bears, very good). The atmosphere is so great, the food was good (not great, unfortunately) and (even more unfortunately) the service was bad.
Something has changed with the food since I was there last. I had the bisque. There was only one tiny piece of lobster claw in it and it was the consistency of soft mashed potatoes. The kids liked the pizza. The fried fish had a nice crust but not a lot of flavor.
We asked three times for silverware and finally had to get up ourselves and seek out our server. Another employee who apparently could not obtain forks, had dropped off our meals and we had been sitting for quite some time unable to eat!
Summary…
Great atmosphere for drinks and entertainment, ok food (seafood definitely used to be better) and if you don't mind a lack of attention from the wait staff…good place.
Cabby Shack 30 Town Wharf   Plymouth MA
Comments
comments