The Sacred Heart food pantry will be hosting their annual Grand Annual Tasting at the Oak Point Community  Ballroom in Middleboro MA on  Thursday April 7th from 6-9pm.  Muckey's Liquors of Lakeville is the main sponsor of this tasitng event.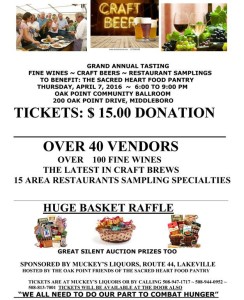 The following local Middelboro area restaurants will be there with some great food samples   –The Cabin, The Fireside, The Hideaway, Lorenzo's, The Boston Tavern, Trucchi's, Hannafords, Shaws, the culinary dept. at The Shaw Home and Nemasket Healthcare , Prisco's Market, Mamma Mia's, The Central Cafe, Somethin's Brewin' , Middleboro Elks Catering, Battastini's Bakery and a few surprises —They will all be at this great event along with 17 Winery vendors and 8-10 craft beer an ale company's
Tickets are $15  Tickets also now available at Muckey's Liquors, Rte 44, Lakeville, at Oak Point at posted times, at St. Rose of Lima office – Rochester, at Sacred Heart Parish Office ( 8:30 am to 3:00 pm weekdays ), Sacred Heart Food Pantry during pantry hours ( http://www.svdpmiddleboro.org/pantry.html ) or by calling 508-947-1717 ext 2 and leave a message.
The Sacred Heart Food Pantry helps over 500families a month.
Oak Point Community Ballroom
200 Oak Point Drive
Middleboro, Ma 02346
Comments
comments