A Swampie asks  
Where are some places where they have great homemade soups that you can pick up on your way home from work. Yes I know I can make my own, but sometimes you just want to pick it up. So, come on and fess up places that have the SOUPS on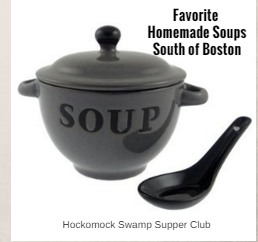 And a little bit of Swampie trivia Seinfield Soup Nazi episode was written by  Spike Feresten who grew up in West Bridgewater and born in Fall River.  
Chateau has a nice minestrone andalso go a thumbs up for their Chateau also has. Italian wedding soup
My sister and I in Bridgewater Friday nights only. .the Portuguese Seafood Stew. ..simply perfection
Trucchi's has different hot soups each day and they package up lots of soups ready for the freezer…(or your belly)!!
Two tumbs up for  Destinatin Soup in New Bedford (check out A Taste of New Bedford Swampie style)  Destination Soup in New Bedford. Can't go wrong and Destination Soups in New Bedford, great selection, all homemade, and all delicious
My Husband loves Spoodles Soup Factory  in Foxboro Center All homemade and many different types
Nicks pizza in quincy has the best chicken lemon soup. This was the first place I have had that soup and have not been able to find anywhere else that comes close.
The commuter cafe at Bridgewater state university  has 3 home made soups when school is open. Public can go in and buy it.
Portuguese Kale Soup, Beef Barley and Lobster Bisque. All terrific at Vel's Cafe, in Wareham.
Homeplate in Taunton. They had an excellent vegetable beef soup–but they do not make it every day. Their chicken soup was good too.
West side Pizza in Brockton has wonderful Chicken Lemon Soup..
Nikos  in West Bridgewater  lemon chicken soup –awesome
I love the soups at Crystal's Kitchen, especially the Drunken Chicken soup which has lots of ginger in it
Blount in Fall River. So many soups to choose from Also their Warren RI location got a rave review.   I go to Blounts store in Warren and buy soup by the bag. Picked up 3 bean chili today. They have them frozen as well so you can "stock" up for the winter. Their extreme clam chowder is great as is their seafood bisque!!!
Lambert's in Sandwich has 6 or 7 hot soups daily…i love their spicy grilled chicken chowder.
Kale Soup at the Mediterranean Grill in Taunton
Owen O'Leary's in Brockton makes their own homemade soups, and they're delicious!
Comments
comments