The Orleans Chamber of Commerce is hosting the 5th Annual ClamBQ! The Orleans Food and Music Festival is on Saturday, October 1, 10:30 am – 5 pm at Eldredge Park. The early fall celebration will feature a traditional clambake dinner and lots of entertainment and fun activities for the whole family.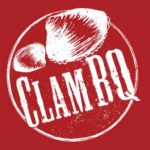 FOOD & BEVERAGE COURT
You can enjoy your meal inside or take your meal outside, sit at a picnic table and all while listening to the great entertainment.
Famous Clambakes
Our local 'bakemasters' are from the Lower Cape! For the fourth year they select seafood from our local markets, prepare the lobsters, steamers, potatoes and corn and steam it just for you! Each clambake includes a pound and 1/4 lobster, steamers, steamed red potatoes, an ear of corn, drawn butter and broth.
Smoked­-To-­Perfection Barbeque
Big Dog's Barbeque at the Orleans Bowling Center will prepare their succulent barbeque by smoking it for hours! Served with generous sides, this barbeque dinner is not to be missed! Each barbeque serving includes one pulled pork sandwich, potato salad, baked beans and cole slaw.
Beverage Court by Cisco Brewers & Friends' Marketplace!
We will be serving Cisco Brewers brand beer and selected wine from Friends' Marketplace in the beverage court, centrally located with a courtyard extending in front of the main stage! Come on in, rest your feet and enjoy the excellent food and live entertainment! Enjoy soft drinks, juice and water at the Orleans Firebirds soft drink booth conveniently located near the Family Friendly Dining Tent.
Food Court Vendors
If a Clambake or Barbeque meal doesn't satisfy your cravings there are other restaurants on site with delicious selections on sale throughout the festival!
Hole-In-One Restaurant: Battered Fish Tacos, Clam Chowder
Nauset Fish & Lobster Pool: Lobster Rolls, Shrimp Cocktail, Clam Chowder, Hot Dogs
The Local Scoop Pop-Mobile
The Yardarm: Lobster Sliders, Clam Chowder, Shrimp Cocktail
Nauset Beach Club Restaurant: Sub selection of Grilled Chicken, Sausage or Swordfish, Oatmeal, Brownies
Salt Block Food Truck: Tacos, Fries, Street Corn, Salad
Ames Pizzeria: Pizza
Orleans Firebirds: Water, Soft Drinks, Juice
Buy tickets here 
Comments
comments