Portugalia Marketplace in Fall River   is rolling out its first-ever Chocolate Festival.The chocolate fountain will be flowing as chocolatiers and experts on chocolate gather for an afternoon of chocolate sampling, wine tasting and all things chocolate this Saturday, February . 13, from 11 am. to 2 pm.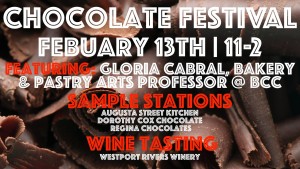 In addition to the store's assortment of chocolate-covered nuts for sale in the bulk bins, and the individual desserts such as chocolate mousse in the cafe, Portugalia is bringing in chocolates that aren't usually for sale in the store.  Dorothy Cox Chocolates, a legendary SouthCoast chocolate company whose products are sold under many labels, will be selling its chocolates and offering samples,
Chocolate Regina, the exclusive dealer of Canadian-based Chocolaterie Bernard Callebaut chocolates, will also be at the Chocolate Festival selling the preservative- and chemical-free chocolates that are made in the Belgian tradition.
For those on diets avoiding gluten, dairy or soy there's Augusta Street Kitchen. The specialty food company was founded by Shanel Sinclair, a clinical nutritionist who was diagnosed with celiac disease. Some of the products featured on the company's website include sea salt and chocolate chip cookies, pecan and chocolate candies and chocolate cake bombs.
Westport Rivers Vineyard and Winery will also be on hand offering samples and expertise in pairing its wines with chocolate.
489 BEDFORD STREET, FALL RIVER MA, 02723 • 508.617.9820
Comments
comments
Desserts & Cakes Food Events