If you're finding it hard to stay under budget because of the high cost of eating out on the South Shore take advantage of these dinning deals  that can help you score a great deal on that next meal out.  Make sure you also check out the daily dinner specials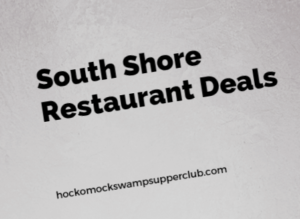 Abington
Japanese and Chinese Fusion at Omoto Garden
Omoto Garden brings a bit of international flair to Abington with its spread of Japanese and Chinese fusion cuisine. In addition to sashimi, sushi rolls, and noodle dishes, chefs craft a number of house specials. They combine shrimp and scallops in a spicy brown sauce to create an entree dubbed the Imperial Couple, and they deep-fry slices of tender steak to create a crispy beef dish. On Thursday, Friday, and Saturday evenings, Omoto surrounds these feasts with a karaoke chorus, as patrons belt out popular songs and sign autographs for their invisible fans.
Two Hours of Billiards for Four People with Optional Pizza and Chicken Tenders at Stix & Stones  
At Stix & Stones, pool tables take center stage—you can show off your billiard skills during the 8-ball and 9-ball tournaments that take place every Sunday at this Abington bar. But the food is a nice side dish to the competition, as the kitchen cooks juicy burgers, crispy french fries, meatball subs, and more. After sinking the eight ball, players can refuel with a cold pint of beer or a glass of wine while watching sports or Extreme Knitting on TV.
Braintree
Seoul Kitchen Korean BBQ (Up to 39% Off)  
grills filled with skirt steak, short rib, and other meaty favorites conjure tasty images of Korea's capital city. These interactive feasts pair well with savory sides of dumplings and kimchee, as well as inventive tropical drinks from the restaurant's festive bar.
Canton
Chinese Food, Japanese Food, and Hibachi at Gourmet Garden (Up to 40% Off)  
When people think of Chinese food, they likely think of scrumptious, but heavy noodle  and rice dishes loaded with dense sauces. Luckily, at Gourmet Garden, lovers of Chinese and Japanese food can dig into a menu full of organic meats and vegetables, low-carb and gluten-free options, and light, healthy rice dishes.
Hingham
$15 for $30 Worth of Asian Fusion Cuisine at Gourmet Garden Restaurant  
As the chefs at Gourmet Garden Restaurant prepare a sweeping variety of Asian fusion dishes, they do so with an eye toward nutrition. When they crack open the pantry, they reach for whole, natural ingredients rather than MSG or trans fats. For instance, chefs complete sushi rolls with sugar-free akai rice that contains 56 times the fiber content of regular rice or standard tissue boxes. They also accommodate dietary restrictions by eliminating gluten, oil, and sauces from select dishes.
Plymouth
$20 for $30 Worth of Upscale Italian-American Food for Dinner at Martinis Bar and Grill
Chattering TVs above the bar, the occasional visiting DJ, and trivia nights. They can all distract from food, but there will still undoubtedly be patrons at Martinis Bar and Grill totally focused on plates of Italian food and burgers. That's all augmented by an array of beers and cocktails, which help encourage dancing and lively conversation.
Two Large One-Topping Pizzas with a 2-Liter of Soda at Plymouth House of Pizza (19% Off)   
Plymouth House of Pizza's pizza menu starts out pretty ordinarily, featuring classic standbys such as build-your-own meat pies and herb-and-veggie-topped pizzas. But as you continue downward, you'll start to see the options become a little less conventional. Take the shrimp marinara, for instance, which crowns its fresh mozzarella with shrimp, tomatoes, greek olives, and thyme, or the brasileira pie that combines ham and heart of palms
$10 Value Towards Deli Fare or Sandwich Meal for Two at Stowell's Cafe & Deli 
Stowell's Café & Deli is a family owned business that offers a variety of unique sandwiches and delicious entrées to the surrounding Manomet area and beyond.
$25 Value or $35 Value at Towne Line Tavern (Up to 40% Off)   
Instead of smoke-yellowed walls and dingy lighting, in Towne Line Tavern there's vibrant colors, wall-size murals, and fun, retro-mod lamps hanging above the tables. And the menu is just as dynamic as the newly renovated space, featuring classic American staples for breakfast, lunch, and dinner alongside out-of-the-box pub offerings such as chicken teriyaki and chicken fra diavolo.
Brazilian Steak-House Cuisine at Rio's Steak House (Up to 47% Off) 
Diners can load up their plates with cold and hot sides from the buffet table. Then, they choose their drink from a full menu of juices. After they're seated, waiters come around with different styles of meat on skewers and shave off unlimited portions of bacon-wrapped steak, lamb, chicken sausage, and fruity slices of grilled cinnamon-sugar pineapple directly onto plates. See the full menu
Granite Grill 703 discount gift cards 
Granite Grill FX is a great place to kick back and soak up some great atmosphere. Our 5 state of the art HD televisions always deliver the very best in Boston Sports, Worldwide Special Events, and Popular Programming. Enjoy great food and drink in our lounge as you watch your favorite events. It is our pleasure to bring you a comfortable, casual and sophisticated dining experience with some of the best cuisine and atmosphere that the South Shore has to offer!
Quincy
Bistro Chi $12 for $25 Worth of Chinese Cuisine and Drinks
At Bistro Chi, modern circular pendant lamps, floating ceiling panels, and white tables and chairs contrast with the traditional flavors of Chinese cuisine. In the kitchen shared with a neighboring tapas restaurant, chefs from Eastern and Western backgrounds work alongside one another. They prepare the house specialty, Chinese-style fried chicken with a golden, crispy crust encircled by a series of tiny Great Walls
$15 for American Food and Pizza at Super Chef Pizza
Super Chef Pizza blends two beloved American institutions—the greasy spoon diner and the Italian pizzeria—into one genre-bending restaurant. The gourmet pizzas take diners on a gustatory tour of everything from classic Meat Lover pizzas—loaded with bacon, pepperoni, hamburger, and sausage—to southern-inspired barbecue chicken pies. They even pay homage to the Old World with options like the Florentine, an elegantly simple blend of spinach, ricotta, and tomatoes.
Pub Food for Two or Four or More at Kelly's Cellar  
Kelly's Cellar, located just steps from the Quincy Center station, provides visitors with a taste of the Irish life. In addition to its 20 TVs, the restaurant entertains imbibers with attractions every night of the week, including trivia and live Irish music.
Taunton Dining Deals
Bella Roma discounts  gift cards
The whole Italian experience is never more evident because Elio is a man who knows variety is the key to great dinning. When you enter the tastefully decorated, informal interior of Bella Roma, you will find the walls are covered with beautiful hand painted murals of Italy and familiar faces, it's welcoming, cozy and comfortable atmosphere. You will instantly feel your taste buds being aroused by the wonderful smells of authentic Italian cuisine cooking all around you.
Weymouth Dining Deals
Chinese Food at Cathay Center (Up to 38% Off).  
There always seems to be something going on at Cathay Center. Some nights, guests are belting out karaoke songs, and other nights, they're racking up high scores on Wii video games. The main reason people flock to this popular local hangout, though, is the Chinese food. The menu is as long as it is diverse, and it even features an array of lighter options.
Asian Cuisine for Two or Four at Golden Dragon (43% Off)  
Golden Dragon introduces its guests to no shortage of options. The South Weymouth establishment's food selection features nearly 20 categories—making the menu read like a who's who of Chinese cuisine. There's the health-food section, which boasts a variety of steamed dishes, and the house specials section, which simmers with spicy creations. The house-special Dragon and Phoenix fuses two dishes into one with sizzling chunks of shrimp and chicken. The menu also includes entrees designed to share. The Pu Pu platter, for instance, lets diners sample seven distinct foods before taking leftovers
Nor'Easters, Sandwiches, Wraps, and Frappes at Michele's Ice Cream & Sandwich Shoppe (Up to 51% Off)
Though it offers sandwiches, pizza, and other American delectables, Michele's Ice Cream & Sandwich Shoppe's primary specialty is ice cream. The shoppe offers more than 50 combined hard- and soft-serve flavors ranging from the divine chocolate fudge brownie to the tangy orange sherbert. Servers dish out scoops in regular cones as well as chocolate-dipped waffle cones covered with sprinkles. They also blend ice-cold frappes to help diners beat the heat on warm summer days.
Whitman
$30 for Two Pints, Two Take-Home Pint Glasses and Crowlers at Old Colony Brewing ($41 Value)