Swampland Server Survey with CrissAnn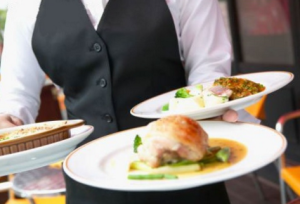 Check out al the Swampland Surveys 
Your Place of Employment:
Dave's diner Middleboro http://www.davesdiner.com
Yes you can use my name and work place.
Your Position:
waitress
Years of Service:
3
Do you like your job?
Yes I really enjoy my job!
Do you feel supported by your employer?
Yes very much so
Are your duties written in a handbook?
yes
Do you personally like the cuisine served  at your place of employment?
Absolutely!! Love the food there
Do you have a good rapport with the Chef?
Yes, communication is great with our kitchen staff
Would you question a plate put up by the Chef if you believed
it wasn't prepared the way the customer requested?    Yes if meal did not come out as the customer requested,  I would ask for said meal to be remade, but that rarely happens
Are you ever personally grossed out by any  of the food that you serve?
NO WAY!!!
Have you ever given into temptation and secretly eat off a plate?
YES lol, but we don't at our restaurant. The kitchen window is right out  n the dining room so customers can see.
Are you encouraged to upsell?
We are encouraged to ask customers if they would like to start   with an appetizer
Do you ever / usually have to fake a cheery persona  when you really don't feel cheery?
Not really as I have a pretty upbeat personality, plus I leave my personal life at the door and enjoy my job  and the people I work with.
Do you use sex appeal in hopes of a bigger tip?
No, I use good service and friendly conversation to get bigger tips
How do you handle removing finished plates?
I ALWAYS ask if they are still working on their meal  before I remove. If plate is pushed to end of table, I will still ask.  My pet peeve are empty plates being left on the table.
How do you handle the check?
"Can I get you anything else tonight?"   and then I tell them there is no rush on my part.  I work in a fast pace environment so most guests   like to leave after they eat if they pay by cash, I ALWAYS say that I will be right back with their change.
How do you handle leftovers?
I ask if they would like to take it home with them I bring a box to the table
generally I have the customer do it as we can not "touch" their food
Do you think on average that customers tip well or not?
Generally speaking I get good tips and feel I give good service
Would you like it if A Swampie requested your table?
YES
Do you want to be part of the Swampland Survey send  email with Swampland Survey