Swap Mob #10 will will be held at Kinfolk's BBQ in Taunton  on Sunday May 22nd.    Freestyle Cruising   Family Reunion   Come anytime   between 12 noon and 4 PM.  There will be a tent  for Swampies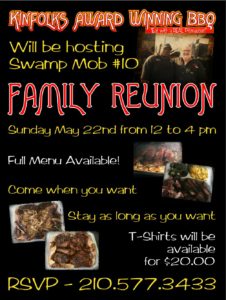 What is a Swamp Mob?
.A Swamp mob is a pre arranged dinner that Swampie mob the restaurant kind of like a cash mob. Swampie have been hitting local restaurants to share in good food and conversations.
Check out what Swampie buzz on Kinfolks
Went to Kinfolks BBG in Raynham today at intersection of 104 and 44. All I can say is PHENOMENAL!!!!!!

Stellar meal from Kinfolks today! Our first time and we ordered a ton knowing we would have leftovers. We got a full rack of ribs, 12 piece order of fried chicken, a pulled pork sandwich, hush puppies and fries. Our son ordered the monster burger topped with pulled pork.

IT  is ALL about the food, glorious food. My husband and I enjoyed the pulled pork, ribs, brisket, Grandma's chicken, yams, Mac n cheese, cole slaw, cornbread and hush puppies. HUGE portions, polite and sweet staff and we were prepared with towels to eat in the car!! The smoke flavor in the ribs was incredible and every bite of pulled pork tender and flavorful. Leftovers in the fridge are now calling my name.

Went to Kinfolks today for fried chicken and it was as just as i expected DELICIOUS!

Kinfolks for lunch today. Brisket, potato salad, yams, coleslaw, beans, cornbread. Highly recommend this Bar-b-q. Route 44 at Globe Liquors in Raynham. It's a food truck so be prepared but it's great food $24 for both lunches.

We had never been so we didn't know how it worked but the young man taking orders was very patient and helpful.
We ordered 1 pulled pork meal with sweet potatoes and Mac and cheese.
One beef brisket meal with the same sides as above.
I also got a half chicken and a 1/2 rack of ribs.
We mentioned the ad on Facebook today and got 2 free chicken sandwiches!!
While we were waiting, I decided to take some pictures and a video.
I have never seen a smoker so big and with so much meat in it!
There had to be 50 racks of ribs in one of those smokers!!!!
When I was placing my order, I asked if Sylvester was there and he took the time to say hello to me and he was just so super friendly and nice. No hint of an ego on that man!
With the way that man cooks, he has every right to be proud!!
The bad: n/a
The ugly: n/a
We got home, and I tried a tiny bit of everything and I have to say my mouth felt like I got punched in the face from the South – but in a good way!!!!
Every single piece of meat I tried was like Heaven! I am a huge mac & cheese lover and I fell in love with his mac & cheese!
I'm not a big fan of sweet potatoes so I'm really not going to review those only because I tried a little bit but I don't like them to begin with so there's no way to really truly review that.
The cornbread? To die for!!!!
Kinfolk's Award Winning BBQ
Route 44, Taunton
In the parking lot of Globe Liquors.